Fixing Gunmaking Mistakes | Winter 2013 Out Here Magazine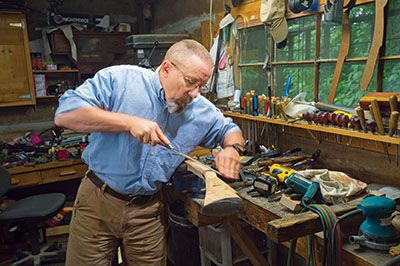 As a self-taught artist, gunsmith Chuck Edwards says he learned much from one mistake in particular.
American craftsman makes historic long rifles
By Carol Davis
Photography by Mark Mosrie
Chuck Edwards, of Bloomfield, Mo., is among a handful of elite American craftsmen who make historic long rifles, the kind of black powder weapons used by the early colonists and by western mountain men who hunted and trapped into the 1800s.
He's painstakingly crafted some 150 of these historically-accurate long guns for customers that appreciate them not only for being the exceptional works of art that they are, but as flawless, precise, well-tuned firearms.
But as a self-taught artist, he made plenty of mistakes along the way. "I learned more from my mistakes than anything," he says. "It's just all trial and error."
One of what he calls his "worst" mistakes actually ended up for the best. It was very early in his gunmaking career, about 15 years ago, and Chuck was working on a rifle on a little bench in his garage when his son, who was just 4 or 5, came in to tell him he had a telephone call.
He finished his phone call and returned to the garage, where he discovered that, while he was gone, his young son had taken a small jeweler's saw and made cuts into the lock area of a barrel stock of the rifle that Chuck was working on.
"The cuts were deep and there were hundreds of them," he says. "I was so mad at him."
The challenge now was to repair the damage on the very expensive piece of wood. But as he carved away the cuts and the stock became more compact, Chuck realized that the shape was even better.
"I had been leaving way too much wood in all these areas," he says. "It was one of the best lessons I ever got."
And he credits his now adult son.
Carol Davis, Out Here editor, wants to learn engraving.