Faux Farmhouse Finish | Winter 2013 Out Here Magazine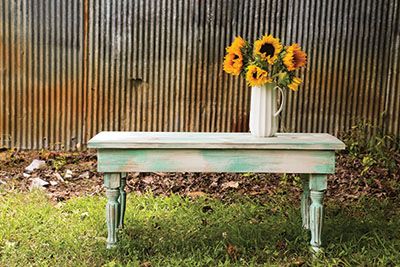 Get the charm and beauty of shabby chic with a little bit of paint
By Gina Luker
Photography by Alan Poizner
Vintage furniture with layers of aged paint can instantly add charm and character to almost any room.
As gorgeous as they are, it's not always easy to find the perfect vintage piece for your home, when the price, function, and color all meet up to align with your needs.
But if you already have a great piece of furniture that may need nothing more than an update, then doing your own faux farmhouse finish can be a great way to get the look for less.
Start by finding a piece of furniture. You can use either a piece you already own or shop yard sales and thrift stores. As long as the furniture is sturdy, well-built, and works for your home, that's all you really need to think about.
Use your imagination to look past the color of the wood to see what it can look like, rather than how it looks now.
The table here was found second-hand for about $5. It was someone's attempt at making his or her own coffee table, but was never finished.
The mismatched wood doesn't matter, because once we're done with it, you'll never see the difference.
work supplies for the project
LET'S GET STARTED
For this project, you will need:
Sander (I used a palm sander)
2 colors of paint:
A darker color (I chose green)
A lighter color, which will be your dominant color (I chose white)
4 paintbrushes
Glaze
Rags
Although this piece was raw wood and didn't need sanding, if your piece has been sealed with polyurethane or a coating, you will need to sand down all of the surface areas well to ensure the paint will hold.
For the paint, I used regular latex typically meant for walls. Leftover paint is perfect for this project, because you need only a little bit to make a big difference.
NO DETAILING REQUIRED
Begin by painting patches of the darker color randomly on the furniture, leaving plenty of space around for the main color (the lighter shade.)
Working quickly, fill in around the first color with the second, while the paint is still wet, leaving a small gap between the two shades.
After most of the piece is covered, put some small globs of paint on the surface close to where the colors will meet, keeping like colors together — white globs on white patches, green globs on green.
Take a third brush and blend the edges together, so that some dark will show, some light shows, and the meeting areas blend together.
On the legs, use two brushes — one for each color — to dab around the paint and work them together to blend it. Be sure you are leaving enough of each shade to show through.
You are not looking for a perfect coat, so work quickly and coat as much of the piece as possible. Perfection isn't the way to add character.
Once the entire piece has been painted, let it dry for several hours.
AGING THE FURNITURE
Now, you're going to add even more character to this piece of furniture by sanding it.
First, sand it again in its entirety, and then concentrate sanding on different areas to add depth and the element of age. Work quickly, not allowing the sander to stay in one place too long, because the friction of the sander causes heat that will melt and gunk up the paint.
After you have completely sanded the piece, wipe it all down with a damp rag to remove any dust.
Lightly coat the piece with glaze, which can be found in any paint department. You have a little more time to work with glaze, because it is designed to dry more slowly.
Once the piece is covered, take a damp rag and lightly wipe away any excess, leaving a very thin coat. But leave more glaze in the nooks and crannies to give more of an aged appearance. Let it dry for 24 hours.
If the furniture will be getting heavy use, you may want to coat it with polyurethane for more protection. That can be applied anytime after the glaze has completely dried.
YOUR TURN
Leftover paint and a little labor took this $5 second-hand piece and turned it into a farmhouse beauty.
The best part of this finish is you cannot make a mistake, as flaws make it only more beautiful.
Any piece of furniture can be transformed. Simply take a second look at what you already have — the perfect piece might already be waiting to get a new life with a faux farmhouse finish.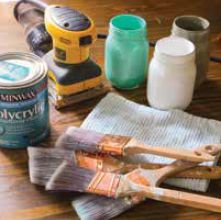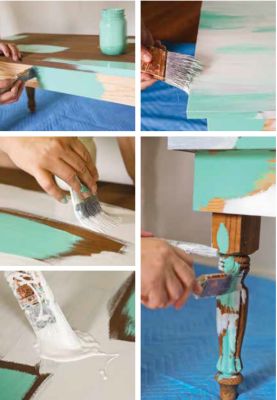 Gina Luker has all kinds of do-ityourself projects and writes about them on her blog, The Shabby Creek Cottage, at theshabbycreekcottage.com.