Conservation Comeback | Winter 2013 Out Here Magazine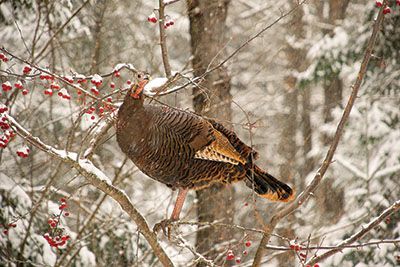 Turkey populations declined so much that, as late as the Great Depression, fewer than 30,000 wild turkeys remained in the U.S.
Once-endangered wild turkeys now plentiful in every state

By Hannah Wolfson
Photography courtesy of the National Wild Turkey Federation
James Earl Kennamer experienced his first wild turkey hunt when he was in sixth grade, but he can remember it like it was yesterday.
"It's hard to understand, until you stand on a ridge or down in a swamp on a beautiful spring morning when the world's waking up, and you hear the birds sing and then a turkey call," says Kennamer, who was so inspired by the experience that he has dedicated his life to studying the American wild turkey. "It just makes my hair stand on end."
Back then, his experience was a rare one. The country's wild turkey population, plentiful in pre-colonial times, hovered around 1 million nationwide. In many states, the native birds lived only in small clusters in remote areas, such as the protected land that was part of a military base in Alabama where Kennamer accompanied his father on a hunt.
But thanks to the work of Kennamer and others at the National Wild Turkey Federation, where he's chief conservation officer, the birds have made an incredible comeback, and now number around 7 million. "We now have them literally in every state," Kennamer says. "It's been one of the conservation marvels of this century."
In fact, the NWTF's mission goes beyond protecting just the turkeys; it's more about preserving America's rural, hunting heritage and spreading the word that hunting is a key part of conservation, Kennamer says.
Much of the resurgence can be credited to the NWTF and Kennamer himself, who worked with state wildlife biologists to find ways to re-stock the declining wild turkey population.
As the nation expanded and settlers cut down forests, the birds disappeared from some states altogether — from much of New England in the 1800s and the upper Midwest in the early 1900s. By 1920, 18 states had no wild turkeys, and the numbers were small in many others. As late as the Great Depression, fewer than 30,000 wild turkeys remained in the entire United States.
By the 1970s and '80s, some states were working to grow their flocks and move them into reserves and safe woodlands. But federal law prohibits states from selling wildlife or sending it across state lines. Without allowing South Carolina to ship a few turkeys a year to Texas, for example, it would have been a losing battle.
So Kennamer and his team calculated a formula that would allow wildlife officials to trade turkeys for another species or be reimbursed for the cost of trapping, transporting, and replacing them, estimated at the time at around $500 a head. In the 1980s, they flew 15 turkeys from Georgia to Wood County, Texas, on a private jet.
"That started the ball rolling," Kennamer says. "Flash forward to today, and we have moved 22,000 turkeys between states, and all over the country."
They've also done important work educating the public about the value of protecting wild turkey populations, as well as the other species that benefit from the protected land where turkeys live. And, as a group made up of mostly hunters, they've worked to re-open spring turkey hunts in all states but Alaska.
But the battle's not over yet. Suburban sprawl — subdivisions and parking lots chewing up forests and farms — has the turkeys facing more habitat destruction. And Kennamer says that an increasingly modern, sedentary lifestyle means fewer people are introduced to hunting and the joy of experiencing the outdoors.
"Wild turkeys have been part of my life as long as I can remember," he says, "and part of why I do what I do today is that I want my three granddaughters to have that same experience."
Hannah Wolfson writes and lives in Alabama, where the Eastern wild turkey is the state's official game bird.