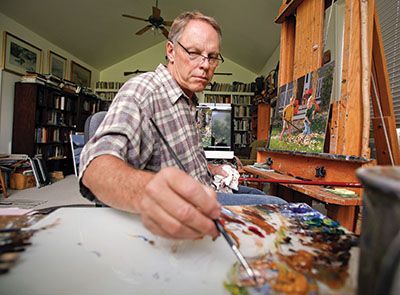 Duncan began painting country scenes when he was 11 and still continues 50 years later.
Captured on Canvas | Winter 2013 Out Here Magazine
Artist draws inspiration from living and loving the country life

By David Frey
Photography by Jim Urquhart
A girl blows dandelion seeds in a cow pasture watched over by rugged mountain peaks. A young boy huddles and cuddles with his farm dogs in a snow bank. A trio of fuzzy sheep stands at the barn door, watching and waiting for warm spring days to come.
These are the images that make up the world of Robert Duncan, a Utah artist who draws his inspiration from the rural corners of the world and brings the countryside to life on his canvases.
"I grew up in the city," says Duncan, who was raised in Salt Lake City and now lives in Midway, Utah, amid the spreading farmland that fans out east of the Wasatch Range. "But I spent my summers on my grandparents' ranch in Wyoming, and that's where I started painting. I fell in love with the farm and with country life. My other grandparents had a farm in eastern Utah. We spent a lot of time in those places."
Scenes of country life dominate Duncan's oil paintings, which he sells as originals, reproductions, calendars, and cards in galleries and frame shops across the country and online at robertduncanstudios.com.
He began painting when he was 11. His grandmother gave him his first set of oil paints and he set out trying to capture the country scenes around him. At 21, he devoted himself full time to painting. At 61, he's still going strong, and still painting farm life.
"Those experiences meant a lot to me," Duncan says. "I've always felt it was good for kids to have some connection to rural life and see something other than the city."
After studying at the University of Utah, he worked briefly as a commercial artist before dedicating himself to painting the American West. The cowboy and Indian scenes were moneymakers, but Duncan found himself increasingly drawn to images of rural living. He left behind his Western scenes to paint the idyllic farm scenes that spoke to him.
"It was hard financially, but I always felt like I'd be painting to a wider audience."
Duncan draws his inspiration from a variety of artists, from American Impressionists such as John Singer Sargent to Norman Rockwell. Mostly, though, his inspirations come from the land around him, which he captures with a Rockwell-like mix of realism and nostalgia.
"I think you do best when you paint things you care about," he says. "At the same time, I try to make them something that everyone cares about."
He travels across the country and around the world to paint rural scenes, from Western mountain scenes to New England farmhouses to Swiss meadows. Often, his scenes are close to home, with his six children and 16 grandchildren serving as models. They walk back and forth with horses for him or doze in his garden while he paints.
"I try to paint the experiences of gathering food or family life or just experiencing the nature around them," he says. "I just try to make things that anyone could relate to in some way in my farm scenes. I feel like we're all much more alike than we are different. I like to try to express that in my paintings."
The same could be said for his landscape subjects. His paintings are meant as reminders that rural areas, where the human landscape meets the natural world, are beautiful and disappearing.
"I feel strongly that we should try to preserve it and let young people experience life around open space and animals and harvests," Duncan says. "It's an important part of America — and everywhere. Even if you can't live in it, it's important to have it."
Places Worth Saving
When his family moved to Midway 35 years ago, it was a farming community. Many of those farms have given way to housing developments. His paintings, Duncan says, are meant to send a subtle message that family farms and rural places are worth saving.
For those who don't live close to farmland, Duncan hopes his paintings capture a sense of what rural living has meant to this country, whether it's plowing a field by hand, feeding the horses in a snowstorm, or harvesting vegetables from the garden, and to bring a little of that experience into their homes.
For those who call rural America home, he hopes the paintings serve as a reminder of how important those places are.
"They're more important than we realize," he says, "not only for our food supply, but for our peace of mind, our mental wellbeing."
They're places where work and play go hand in hand, where daily life means close contact with the natural world. In his own childhood, visiting his grandparents meant waking up at dawn to milk the cows, but it also meant riding horses, watching hawks, finding baby birds in the hayfield, and seeing the splendor of sunlight in morning dew.
"I've always felt those simple experiences are some of the richest and they stay with us the longest," he says. "I try to capture that in my paintings and remind people of it. I feel like it's a way to inspire people to save those things, to have it on the wall and remember them."
David Frey writes in Gaithersburg, Md.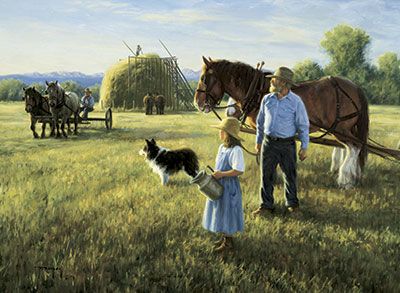 Haying Time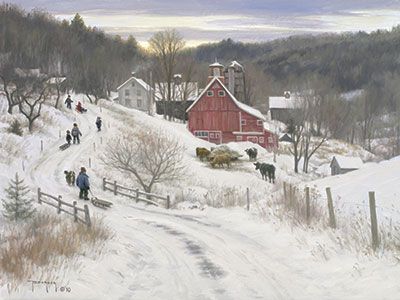 December In The Country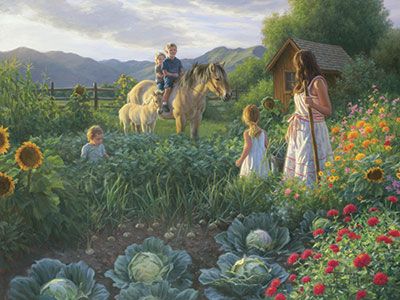 The Summer Foal