Battling Hunger | Winter 2013 Out Here Magazine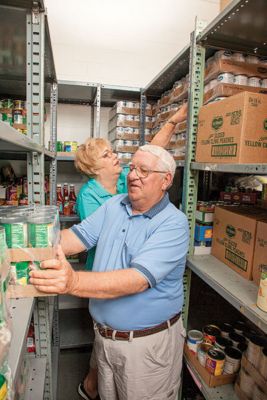 Once they retired from their careers, Fran and Bill Fortune volunteered to run their hometown's food pantry in Nitro, W.Va.
Retired couple strives to keep their community fed

By Noble Sprayberry
Photography by Clayton Spangler
An envelope containing $25 in cash, wrapped in notebook paper bearing a message earmarking the money for a local charity, faithfully arrives each month at St. Paul's Methodist Church in Nitro, W.Va.
The sender seals the envelope with a Bible verse, or a picture of a dove or butterfly. Otherwise, the source remains a mystery.
The money benefits the Nitro Food Pantry, and Fran Fortune believes she understands the motivation, even if she does not know the donor.
"In my heart, I think it's from someone we've helped along the way. They just want to give back," she says. "It keeps coming and coming, and it brings a tear to my eye every time."
Similar stories of hardship and benevolence repeat in this town of about 7,000 residents, where Fran and her husband, Bill, run the Nitro Food Pantry devoted to helping the young, the old, the ill, or the traveler in need.
Both Fran and Bill retired from careers spanning 36 years. She worked in the purchasing department for a chemical company. He taught shop and mechanical drawing at Nitro High School and Nitro Junior High School.
Before retirement, they both volunteered with a long-running local effort to provide Christmas baskets to the needy. Once they retired from their careers, new work started in 2005, when they began running the food pantry.
"I love every minute of it," Fran says. "When I grew up, I didn't have a whole lot. My mother and father always had tough times. Bill and I both feel this is what we were called to do. We get tired, but we don't really ever complain. We just smile and start another day."
Responding To Need
In this community about 14 miles outside of Charleston, W.Va., folks often need a leg up. Too many of the region's chemical plants, the primary sources of jobs, either closed or scaled back, Fran says.
The town, though, has a history of resilience. During World War I, a federal munitions plant was built in the Kanawha River Valley to provide gunpowder to the troops, but the war ended just as the multi-million dollar plant spun into production. Eventually, however, the region came back economically to become one of the world's largest suppliers of chemicals, thriving in the 1950s and 1960s.
A monthly food basket program also serves an average of 60 families. Four volunteers help prepare baskets on Mondays and two additional volunteers help out on Tuesdays.
Many residents still live in houses built for plant workers in 1917. "They were pretty modest to start with — the Nitro bungalows," Bill says.
Often the holidays bring tough times. Families can apply for help through the charity's Christmas basket program, which includes food and three gifts per child. The Fortunes grew the outreach from about 75 families served to more than 300 families, including about 250 children.
Helping the needy continues after Christmas. The community's former high school, now the Kings Way Christian Center, houses the Nitro Food Pantry — two rooms, both formerly girls' locker rooms. "It's very … quaint," Fran says. "It's kind of small, but we get by. We started out with one refrigerator. Now we have nine freezers and three refrigerators."
A monthly food basket program also serves an average of 60 families. Four volunteers help prepare baskets on Mondays and two additional volunteers help out on Tuesdays. The baskets include canned goods: beans, corn, and soups. Meat, such as chicken, comes from federal programs. Local merchants donate eggs and milk nearing expiration. "And we always include peanut butter and jelly, if we have it," Fran says. "But, we don't always have it."
Baskets are available once a month, but sometimes people run short. "We don't ask a lot of questions," Fran says. "We just give it to them, especially if they have children."
Strangers in trouble find the same ask-few-questions support in Nitro, which is just off U.S. Interstate 64. "They're stranded and they need a place to stay; we've heard all kinds of stories," Bill says.
The couple coordinates a support network that includes a motel, which will allow one night's free stay, and restaurant gift cards to a local pizza parlor and biscuit house.
The Nitro Food Pantry also offers other services, including one prompted by a study of the region's youngest. "It found that some children in Appalachia might get a free breakfast at school and then a free lunch, but on the weekends they might not eat at all," Bill says.
So, the pantry started the weekly Backpack program, providing sacks filled with snacks, fruit and juice boxes to as many as 150 children. During the school year, the sacks go to the elementary schools. This year for the first time, the program continued into the summer with deliveries to mobile home parks and other places children gather.
"You've got to take care of the kids and this a way to get the stuff right into their hands, and hopefully it will carry them through," Bill says. "Some of these kids might get home on a weekend and there might not even be anyone else there."
The program is anonymous. Fran and Bill will never meet the children. They just know the Nitro Food Pantry will do what it can to help.
Georgia writer Noble Sprayberry is a frequent contributor to Out Here.