All Natural Dairy | Winter 2013 Out Here Magazine
As most family dairy farms close, Karen Oberst's young venture is thriving

By David Frey
Photography by Mark Oberst
Karen and Tim Oberst were taking a chance when they bought their 74-acre farm in northwest Ohio in 2005. The farm had fallen into disrepair. Its buildings were dilapidated. Its pastures needed to be fenced.
What they planned for the farm was taking an even bigger chance. Karen, who came from a farming family, had always wanted to try her hand at running a dairy farm: a small-scale, all-natural, grass-based dairy farm, the way all dairy farms used to be. People weren't starting dairy farms like that anymore. As she soon discovered, they weren't starting dairy farms at all. Competition from large production farms makes it all but impossible.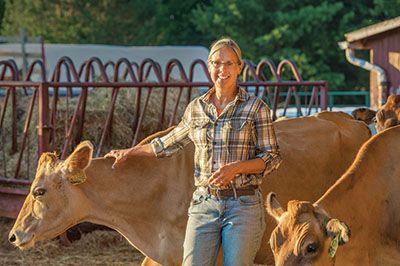 When Karen Oberst opened Wise Acres Farm in Findley, Ohio, with her husband, Tim, they were the first family to start up a dairy in Hancock County in 35 years.
When they opened Wise Acres Farm in Findley, Ohio, they were the first family to start up a dairy in Hancock County in 35 years.
"It's very labor intensive," says Karen, who runs the farm. "It's a huge commitment."
It's also been very rewarding, she says, and she makes a point of passing on what she's learned to others who are interested in starting their own small dairies. She offers internships at her farm and handles a growing number of phone calls from people across the country, some who just want to milk a single cow, sheep, or goat.
"The more small farms we have, the stronger our network becomes," she says. "We can all help each other."
Environmentally-Friendly Farming
Farming is in Karen's blood. Her father was raised on a New England dairy, and she was raised on a farm, but one more dedicated to crops than livestock. She earned a degree in agriculture from Murray State University in Kentucky.
Caring for the environment is just as much a part of her makeup as agriculture. She worked for the Environmental Protection Administration, taught college zoology classes, and worked as a naturalist.
"My entire career has been devoted to environmental issues one way or the other," she says.
Her twin passions for farming and the environment came together at Wise Acres Farm, where she takes charge of some 65 head of livestock, including 22 milking cows. The cows are primarily grass-fed, although she does use some grain to round out their diet.
"We wanted to farm in an environmentally-friendly way," says Karen, who uses no synthetic chemicals on her farm.
She rotates the Grade A Jersey cows through their pastures two or three times a day — as many as six times a day in dry summers when the grass is struggling.
It's a pastoral lifestyle that people in the city can't experience and an intimate connection with her land and animals that's hard to find on big commercial farms.
"The cows are healthier, in my opinion, when they're out in the natural environment grazing," she says. "They tend to live longer, reproduce more readily, and they have fewer health problems."
The farm is healthier, too. The roaming cows act as manure spreaders as they graze.
Running a grass-fed dairy has its disadvantages. The cows' milk production is lower. Grass is harder to come by in times of drought. (Last year, the Obersts cut their herd in half because of lack of feed.) And, of course, it's labor intensive. But for Karen, it's a labor of love. She does most of her work on foot, with her border collie rounding up the cattle.
"Every day brings something different and every day brings something to be thankful for," she says. "I'm blessed to have the opportunity to take care of the land and animals."
It's a pastoral lifestyle that people in the city can't experience and an intimate connection with her land and animals that's hard to find on big commercial farms.
"Running a small dairy is a lifestyle choice," she says. "You're committed to it seven days a week, twice a day. And really, it's all day. There's always something to do."
Consumers never know, though, that they're drinking milk from grass-fed cows at Karen's dairy farm. Ohio law doesn't allow the sale of raw milk from the farm. Her milk goes to a commercial processor where it's mixed with milk from other dairies.
Many of the farmers who contact her, though, have something else in mind. Some want just enough milk to feed their families. Others want to make artisanal cheese on their farm.
"Based on the number of calls I get, there is an interest in having dairy animals," Karen says, even if it's just for a single cow, or a goat.
Karen finds herself trying to give the same answers she was seeking when she first started out.
"A lot of it is by jumping in and doing it," she says. "In retrospect, I think it probably was kind of crazy."
Only about 5 percent of dairy farmers are women, she says, and for some farmers she went to, searching for advice, it took some time to convince them she was serious.
"A lot of people would chuckle and now I know why," she says. "You just can't explain it all in a couple-hour meeting."
But as more and more people turn to small, local farms to buy their foods, Karen is hopeful that will mean more small dairy farmers follow her path.
"People want to know where their food is coming from," she says. "If they are unable to produce it themselves, they like to meet the farmers face to face and know what kind of practices they use. I think it's a beneficial relationship for everyone."
David Frey writes in Gaithersburg, Md.