Abrasive Blasting | Winter 2013 Out Here Magazine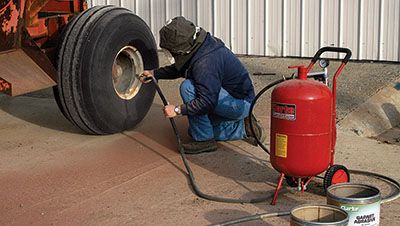 Garnet, glass beads, and aluminum oxide are safer than silica sand because dust in silica-based abrasives can cause serious lung damage.
Blast away rust and peeling paint
By Carol Davis
Photography by Tractor Supply
Corrosion, peeling paint, and rusty metal don't stand a chance against abrasive blasting when it's done with skill. Compressed air allows an abrasive to scour a surface to remove what you don't want, or to clean and polish a surface.
The term "sandblasting" may be commonly used, but the more accurate word is "abrasive blasting." Although sand commonly may have been used 20 years ago, safer blasting agents — garnet, glass beads, aluminum oxide — largely have replaced silica sand because the dust in silica-based abrasives can cause serious lung damage and other health problems.
Abrasive blasting is good for both small jobs, such as cleaning up weathered patio furniture, and large projects, such as restoring vehicles. Properly used on steel or cast metals, abrasive blasting will leave a surface free of impurities and ready to paint.
Selecting A Blasting Rig
To figure out which blasting rig is best for you, consider the size of the projects you'll be doing and the length of time it takes to do them.
Abrasive blast cabinets are suitable for professional and workshop use. A blasting cabinet is used for smaller objects, such as transmission casings, exhaust manifolds, and wheel rims. The cabinet is made of steel with a Plexiglas viewing lid. A low-voltage light improves visibility during operation. Both tabletop and stand style sandblasting cabinets are available. The larger cabinets offer a larger work area — up to 8 cubic feet.
Pressure pot abrasive blasters are on wheels for portability and can be used on larger projects, such as removing paint and rust from tractors, body panels on cars, fencing, and metal outbuildings. They come in three tank sizes: 5, 10, and 20 gallons. Larger tanks allow for longer cleaning time before stopping to build air pressure.
Safety First
The materials removed by abrasive blasting are often very hazardous. No matter what abrasive blasting material you choose, you must use appropriate safety measures to contain, ventilate, and filter the dust caused by blasting to keep from harming yourself and others.
For your personal safety, use protective equipment such as a respirator, an abrasive blasting hood that covers the head and shoulders and allows sight through a clear shield, leather gloves, long-sleeved shirt, long pants, and shoes to protect your skin from abrasives ricocheting off metal.
Remember, no silica sand in your blasting rig. OSHA has warned against the dangers of using silica-based abrasives for years. When silica-based abrasives are blasted against a work surface, they shatter and result in airborne dust particles. If you inhale these dust particles, they can lodge themselves in lung tissue, and the body has no way to remove them, which can result in the lung disease silicosis.
Garnet and glass beads are safe to use because they are not silica-based. Garnet, which is very economical, cleans metals, brick, and concrete.
Glass beads are best suited for cleaning and polishing.
Garnet and glass have a much longer life span than silica-based sand abrasives because they are recyclable.
Carol Davis is editor of Out Here.