Vegetable Contests | Summer 2013 Out Here Magazine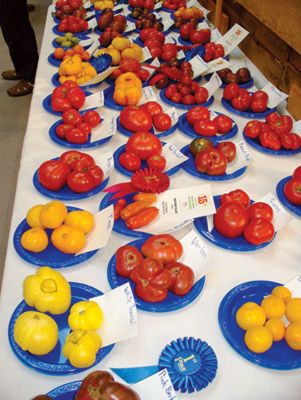 Submit only your best vegetables to show; those with even color, and without blemishes, insect damage or other imperfections.
Tips to help you take home a winning ribbon

Story by Jodi Torpey
Photography by John Pendleton
Last summer, after growing vegetable gardens for more than 30 years, I entered my first vegetable competition. Thanks to good gardening weather, I took three entries to a county fair. Thanks to beginner's luck, I came home with three shiny blue ribbons.
If you'd like to add a bit more fun into your gardening efforts this season, consider entering a horticulture contest. No matter how long you've been gardening, it's an interesting challenge to grow the right number of perfect specimens and get them ready by show time.
GETTING READY TO SHOW
Before you pick, clip, or snip anything to exhibit, check your fair's handbook for each vegetable category. If the rules for green snap beans specify 10 pods per plate, each the same length and with a half-inch of stem, be sure to follow those guidelines precisely.
Harvest only your best samples. Each should have an even color and be a good size and shape for the variety. Vegetables should be as perfect as possible without blemishes, insect damage, or anything else that will detract from the entry.
To select your potential prize-winners, think about the question one judge asked a group of spectators watching a tomato contest: "Which of these would you buy at the store?"
Pack your entries by wrapping them individually in newspaper, bubble wrap, tissue paper, or cloth and place them in sturdy boxes or baskets to prevent bruising during transport. It pays to harvest a few extra, just in case something unfortunate happens on the way to the show.
Place vegetables with stems facing the same way and smaller specimens on each end. Even though judging is based on criteria by category, presentation counts.
AT THE FAIR
Plan ahead and be organized when you arrive at the fair. Make sure you have the species name — tomato, pepper, cucumber — and the variety name — Big Beef, Habanero, Fanfare — for each entry. This information assists judges and helps fairgoers viewing the exhibits.
The contest rules should explain how to display entries, whether on paper plates, exhibit boards, or something else. If the rules allow, make your exhibit as attractive as possible.
Place vegetables with stems facing the same way and smaller specimens on each end. Even though judging is based on criteria by category, presentation counts.
WHAT JUDGES LOOK FOR
Judges will consider the characteristics that make one entry stand out from the others. Prizewinners are those that fit the market standard for ideal size, quality, and condition.
For each entry, judges will look for the required number of specimens and uniformity in shape, color, and texture. They'll examine for blemishes or damage and whether the cultivar is what is called "true to type."
To a certain degree, size matters, too. An exhibit of large sweet peppers probably will best an entry that's just as perfect, but smaller. Avoid showing enormous specimens because that could signal the vegetables are past their prime.
After the contest, note what you'll do differently for the next competition. Use the critique from judges to help improve your chances for winning even more ribbons, premiums, and prizes next season.
Jodi Torpey, a Denver-based master gardener, garden writer and author, was delighted to win five blue ribbons, two red ribbons, and $79 at vegetable competitions last year.