Tips for Growing Peppers | Spring 2013 Out Here Magazine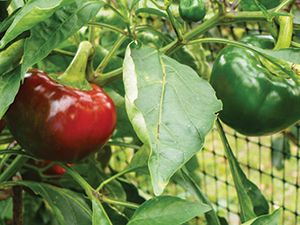 Theresa Martz offers tips and techniques on how you can successfully grow heirloom peppers.

Story and photography by Theresa Martz
Peppers are one of the easiest, most flavorful, and colorful plants to grow. All that's required is patience and a little catering to their likes and dislikes.
All peppers prefer a long, warm growing season. Sweet peppers take 60-90 days after transplanting to reach maturity, while hot peppers can take up to 150 days. That means that unless you live in the Deep South you'll need to start your seed 8-10 weeks before transplanting to allow plenty of growing time in the hot summer sun.
Plant your seed in good grow mix — either a commercial seed-starting mix, or one you've made yourself. You'll find "recipes" for do-it-yourself seed-starting mixes online.
If you're planting in a flat, rather than in individual pots, place the seeds at least 2 inches apart. Keep them in a consistently warm place — around 70 degrees.
Ensure germination by keeping the soil moistened but not soggy. Be patient; peppers can take one to three weeks to germinate, and sometimes longer.
Watch as they germinate and develop a set of true leaves. The very first leaves you see are not really leaves; they are called cotyledons and are formed as the seed germinates. The next leaves that form will look like pepper leaves and these are called true leaves.
Once your peppers germinate and grow a set of true leaves, gently transfer each to a larger container. The larger container makes a big difference when transplanting, because it allows the seedlings to be able to recover from transplant shock and continue growth more quickly by not having their roots disturbed.
After they grow their first set of true leaves, fertilize the seedlings weekly with half-strength fertilizer. After they're in the larger pot and reach 4-5 inches, apply fertilizer at full strength, as recommended on the product label.
Although warmer days are starting to show up now and again during early spring, and you're anxious to get your garden planted, be sure to wait until after the last chance of frost has passed. That "frost date" is different for each region of the country, but you can find out yours by going online or checking with your local agricultural extension office.
When nighttime temperatures are consistently around 55 degrees — usually one to three weeks after your last frost date — it's time to transplant.
If you can provide some protection for your seedlings, such as row cover fabric, you can plant a bit earlier and have a longer season. These protections are perfect for peppers that need more time to ripen.
By the end of August your peppers should be the stars of your garden with their rainbows of fruit. Even your bell peppers — if allowed enough time on the plant — will turn a beautiful red, making them as sweet as can be.
READY TO PLANT
One or two weeks before you set your peppers in the garden, harden them off by gradually exposing them to the outdoors. Start out with half an hour at a time and build to four or more hours each day.
At first, put them in a shaded area, such as on a screened porch or under a tree, to protect them from direct sunlight. Also take care to protect them from wind and driving rain.
Good drainage is a must because peppers dislike soggy soil. They like an even amount of water. Mulching after you plant and having lots of organic matter in your soil will help keep moisture at the proper levels. It'll also provide the nutrients the peppers need.
Set your plants 18 inches apart to allow for good air circulation. Plant one inch deeper than what they were in their pots to help provide more support as they grow. Most peppers produce prolifically, so plan to place stakes or supports for each plant to keep it upright when it's heavy with fruit.
As much as peppers love the heat, they're particular about how much. The 70- to 85-degree range is just right. But don't worry; peppers are survivors and if it gets too hot, cold, or dry, the plants will drop their blossoms and not set fruit. It's a way of ensuring their survival inunsuitable times. When conditions improve, they'll pick up where they left off and keep right on going until a hard frost.
By the end of August your peppers should be the stars of your garden with their rainbows of fruit. Even your bell peppers — if allowed enough time on the plant — will turn a beautiful red, making them as sweet as can be.
Try several new varieties each year to experience a range of flavors and fruit sizes. If you don't have room for all of them in your garden, try a few in your borders or in pots on your patio.
With patience and just a little care and attention to their needs, you can experience huge success growing peppers this spring.
Theresa Martz of Virginia, a longtime organic gardener, writes about gardening at TendingMyGarden.com.