The Business Of Eggs | Summer 2013 Out Here Magazine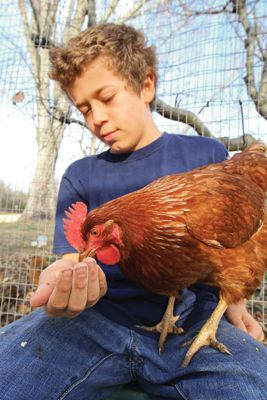 Zach Whitler isn't even a teenager yet, but he's already started his own egg business.
Young backyard chicken farmer is growing his poultry empire.
By Hollie Deese
Photography by Tracie Prichard
Zach Whitler, 11, really knows his way with an egg. Whether he's checking his chicken coop each day after school for a freshly-laid batch or whipping up a buttery Julia Childs-style omelet on a Sunday morning, eggs are truly Zach's business.
And it all began with a trip to the local Tractor Supply store in Franklin, Tenn.
Zach bought two chicks that early spring day in 2012, and soon got two more. He set up a dog pen in his bedroom to keep a close eye on them while he worked out a more permanent solution and extensively researched how to care for them — reading books and even calling people from his church who raised chickens to interview them for tips.
"He's always had critters — frogs, snakes, lizards, tadpoles, and we have four dogs," Zach's mother, Celia, says. "When he really wrote those questions and called those friends to interview and then put up $20 of his own Christmas and birthday money I thought, 'Hmm, he's really committed.'"
Zach found a local builder willing to build him a henhouse and chicken coop and he now has 15 chickens of different varieties, including Silkies, Leghorns, and Ameraucanas. He listens to podcasts by Andy Schneider — known as The Chicken Whisperer — to pick up tips. Zach even has been the only youngster who attends a local Meetup Group for people raising backyard chickens.
His parents were a bit apprehensive at first, especially his father Ron. But Zach has yet to lose his enthusiasm.
"It's great to see him excited to get off the bus and check the coop for eggs," Ron says. "He genuinely loves, every day, checking on them, gathering the eggs, letting them out in the yard, closing up the coop at night, and going to the little market in Triune (Tenn.) to trade or just to see what they've got."
He's still too young to know what he wants to be when he grows up, but he is sure chickens will always be around. Maybe even some goats. "I want goats so bad," he says. "And a big truck."
But Zach really doesn't need to grow up to have a job — he has one right now, selling his eggs for $4 per dozen at his church, through his Boy Scout Troop, and via his website.
Lately, he's been saving his profits to expand his existing coop so he can add more hens.
But no matter how many birds he has or how much work he has to do, Zach remains eager in his passion for poultry.
"It is really hard to keep up with the chickens," Zach says, "but it is really fun."
Hollie Deese is a Gallatin, Tenn., writer.