Supporting Each Other | Summer 2013 Out Here Magazine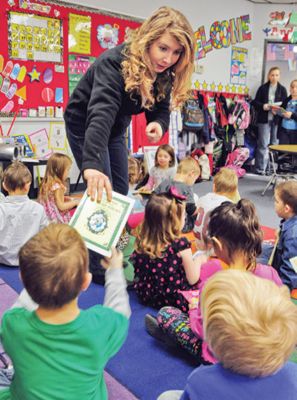 Every child in this entire elementary school received a book, thanks to Ashley Powers.
4-H teen tackles illiteracy by growing her annual book drive

By Hollie Deese
Photography by Jason Palmer
Ashley Powers, 16, always has allowed herself to be transported by reading. Her love for books started early and has only grown with her.
But parallel to her love of a good story is her desire to serve others, and three years ago she found a way to combine both passions when her family moved to Oklahoma and she joined a local 4-H teen leader program in Duncan.
"In years past, they had collected books and donated them to the local hospital," Ashley says. But that year the program was being cut so Ashley decided to take it over and focus on getting books for an area school.
That first year, she gathered 300 books and distributed them across two grades at one school.
"One of the teachers told me some of these kids had never had a book of their own to read, and so it was really amazing to see the smiles on their faces," Ashley says. "It was really sweet so I decided to do it again next year."
So later that year, she organized another book drive, expanding it to set up four drop-off locations. This time, she gathered 1,300 books, which she distributed among three schools.
Ashley's success inspired her to think even bigger for the third year of the project, so she reached out to other community 4-H clubs to join in and made it a competition, rewarding the club that collected the most books with a pizza party.
Those efforts resulted in about 2,500 books collected and distributed among four schools.
"This year we were able to do an entire school and give one book to every child in there," she says.
Her family has been supportive every step of the way, including her three younger siblings. "They have been a huge help sorting the books and checking the donation boxes," Ashley says.
Their mother, Wendy, has been the encourager and provider of book storage.
"I always thought it was good for my kids to be involved in community service," Wendy says.
And even as Ashley was distributing books from the most recent collection, she already was thinking about how to make the next book drive even bigger.
"We have a very tight-knit rural community and we believe in supporting each other," she says. "I never want to stop having that feeling of joy of being able to give back to the community that has supported me."
Hollie Deese is a Gallatin, Tenn., writer.