Recipes With Honey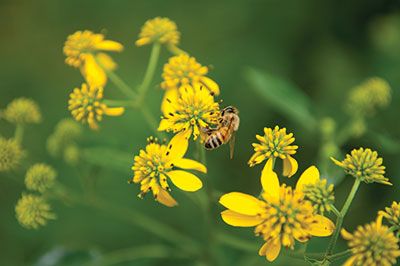 By Linda Rountree Grove
Photography by Mark Mosrie
Enjoy these two family favorite recipes from Linda.

GOOD FOR YA GRANOLA
We prefer to enjoy granola with yogurt instead of milk and use fresh seasonal fruit instead of dried occasionally. This granola is delicious no matter how you serve it.
Ingredients:
7 cups rolled oats
1 cup sliced almonds
1 cup pecan pieces
1 cup English walnut pieces
1 cup unsalted sunflower seeds
1 cup wheat bran
1 cup wheat germ
1 cup canola oil
1 cup honey
Chocolate chips and/or dried fruit (cranberries, cherries, blueberries, etc.)
Directions:
Preheat oven to 325 degrees Combine oats, almonds, pecans, walnuts, sunflower seeds, wheat bran, and wheat germ in a large bowl.
Heat oil and honey on stove or in microwave until warm.
Pour oil and honey mixture over dry ingredients and stir until evenly coated.
Spread granola mixture evenly onto two cookie pans.
Bake 20 minutes.
Loosen granola from pan immediately after removing from oven and cool.
Store in airtight container.
Sprinkle with chocolate chips and/or dried fruit as desired.
CHICKEN BREASTS WITH HONEY MUSTARD AND PORTABELLA SAUCE
This dish is easy enough for everyday meals as well as impressive enough for company.
Ingredients:
4 boneless chicken breast halves
McCormick's Montreal Steak Seasoning (or seasoning of your choice)
½ cup Dijon mustard
½ cup honey
1 package baby portabella mushrooms, sliced
1 small bunch of chives or green onions, sliced
Directions:
Preheat oven to 350 degrees.
Place chicken in shallow baking dish and sprinkle with seasoning.
Bake chicken for 25 to 30 minutes or until done.
Combine mustard and honey in a sauce pan and cook on low heat until combined.
Add mushrooms and continue cooking until mushrooms are heated through.
Pour honey mustard sauce over baked chicken and sprinkle with chives or green onions.
Linda Rountree Grove and her husband are hobby beekeepers who run two hives on their Missouri farm.