Productive Pollinators | Summer 2013 Out Here Magazine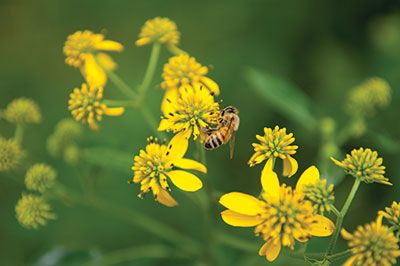 5 reasons to keep bees
Bees are relatively easy and inexpensive to keep, and their pollination will help boost yields from your garden and orchard.
Photography by Mark Mosrie
Your gardens and orchard will yield much more if you have your own army of pollinators to fertilize plants and fruit trees.
Bees are not difficult to keep, and you get free honey.
See if these five reasons don't get you thinking about having a hive or two of your own:
1. Beekeeping is not labor intensive
Bees do not require daily care like animals. Hives must be checked in the spring and fall is case the bees need supplemental feeding. You should check them occasionally during the summer to evaluate the hive's condition and honey production. You'll harvest surplus honey in late summer or fall, which involves just one day if you have only one or two hives. And winter involves no work for the beekeeper.
2. Bees are not picky about where they live
Bees are equally at home in the city or the country. If you live in an area that produces flowering plants, shrubs, and trees, you can keep bees — whether it is in the desert southwest, humid south, or up north where the winters can be brutal. Check with your local beekeeping association or county extension office to determine which variety of bees are best suited to your location as well as to learn beekeeping strategies specific to your area. City dwellers must be in compliance with any local ordinances.
3. Honey and beeswax are useful — and profitable
It's a good thing honey has multiple uses; a hive will produce an average of 60 pounds of surplus honey a year. Honey has long been used to treat sore throats and some allergy sufferers swear by raw local honey's ability to alleviate allergy symptoms. Due to honey's antimicrobial properties, it can be used to treat minor cuts and scrapes. It creates deliciously moist baked goods. Beeswax makes sweet smelling, slow-burning, nearly smokeless candles. Honey and wax can be used in making homemade bath and body products such as soaps, hand creams, and lip balms. Honey makes a great gift and both honey and bee's wax can be sold for extra income.
4. Beekeeping puts you in touch with nature and yourself
Beekeeping can greatly enhance your enjoyment of the outdoors and will give you a heightened awareness of when various plants come into bloom. You will begin to notice what other insects pollinate your plants. The behavior of the bees will give you greater insight into temperature and seasonal changes as you observe their habits. Bees can also help you alleviate stress. Working at the hive requires slow, deliberate movements, which necessitates one to slow down. Watching the bees work among the flowering plants and listening to the hum of their wings can be a relaxing, almost meditative, experience.
5. Beekeeping supports the bee's community as well as our own
Mentoring and educational opportunities are abundant for beekeepers at local schools, community centers, or with 4-H programs. The growing awareness of Colony Collapse Disorder has increased the public's interest in the humble honeybee, and people are eager to learn how to help the honeybee and how honeybees help produce the food they eat.
Provided you are not allergic to bee stings, anyone can participate in this fun and rewarding activity. Your local beekeepers association, county extension office, and beekeeper forums on the Internet are all great places to look for help and information.
Linda Rountree Grove and her husband are hobby beekeepers who run two hives on their Missouri farm.