Out Of Gas | Summer 2013 Out Here Magazine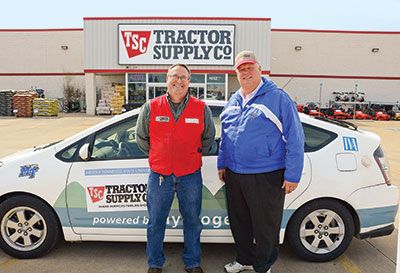 Cliff Ricketts and Arthur Mitchell in front of Cliff's hydrogen-powered car. Ricketts visited with TSC store managers along the way, including Arthur Mitchell in Shawnee, Okla.
Ag professor drives coast to coast on nothing but water
By S.L. Alligood
Photography by MTSU
Cliff Ricketts credits his experience growing up on a dairy farm with his recent historic achievement — driving coast to coast without having to stop at a single gas station.
For three decades, Ricketts, a professor at Middle Tennessee State University's School of Agribusiness and Agriscience, has transformed traditional gas-fueled cars into vehicles powered by hydrogen created from separating the "H" from H20 — or water — in a process known as electrolysis.
Last March, after traveling six days and 2,600 miles from Tybee Island, Ga., to Long Beach, Calif., Ricketts took off his shoes and waded shin deep into the Pacific Ocean, having achieved his decades-long goal of an east coast to west coast journey solely on hydrogen power.
"On a dairy farm, you have to milk the cows twice a day without fail, no matter what, and no excuses," Ricketts says. "If there are problems, you have to figure it out and get it done, and it's the same thing we've done at MTSU — get it done no matter what, and no excuses."
This was actually Ricketts' second cross-country trip. In March 2012, he and a team of students went from the Atlantic to the Pacific, consuming only 2.15 gallons of gasoline, along with alternative fuels: ethanol from corn, electricity from solar-charged batteries, and hydrogen. In 2013, the professor was determined to use only hydrogen.
Except for "a little hitch every now and then," Ricketts says, the retrofitted vehicles — a 1994 Toyota Tercel and a 2005 Toyota Prius — performed flawlessly.
Of course, he notes, just as the Wright brothers didn't have airports at Kitty Hawk, his "little expedition" couldn't depend on hydrogen refueling stations along the way.
A support crew of seven — a combination of students, former students, and Ricketts' son, Paul — followed along in a small convoy of gas-powered vehicles, one of which carried tanks of hydrogen.
At towns across the country, the entourage stopped at Tractor Supply Co. stores to visit with managers, staff, and customers. TSC has been a major sponsor of the professor's work since 1991, when Ricketts and students set a new record in a hydrogen-powered speed test. The MTSU modified truck topped 108 mph, a record that stood for many years.
Ricketts, savored his recent wade into the Pacific, calling it "my grand finale," before his upcoming retirement. But he's not quite ready to leave the work he started in the late 1970s as a result of U.S. energy crisis in which Middle East unrest curtailed oil exports and pump prices tripled. Ricketts was concerned that farmers could not get their crops to market, resulting in a food shortage, so he began to work for a future in which Americans wouldn't rely on foreign oil.
He'll continue to promote hydrogen and other alternatives as fuel from the comfort of his Tennessee farm. "This is my contribution to mankind," he says. "Putting the man on the moon has more of the wow factor, but as far as making a contribution to mankind to help the whole world I think we've blazed a trail here."
Writer and journalism professor S.L. Alligood also teaches at MTSU.