Home Food Preservation | Summer 2013 Out Here Magazine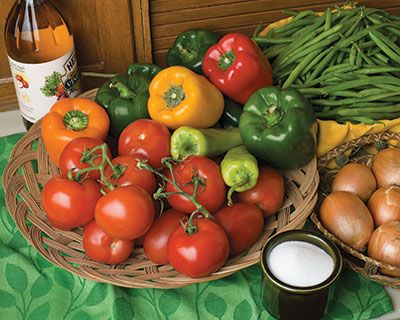 Enjoy home grown or locally grown foods all year
Photography by Mark Mosrie
Take a look at the nutrition label on your favorite fruits, vegetables, and other foods and you'll see a list of ingredients that you can't pronounce, much less understand. It's safe to say that most commercially canned foods are full of artificial preservatives and sodium.
That's one reason why home preserving is experiencing a resurgence in popularity, says Judy Price, a Cornell University Cooperative Extension expert who teaches Master Food Preservation. Take a look at the nutrition label on your favorite fruits, vegetables, and other foods and you'll see a list of ingredients that you can't pronounce, much less understand. It's safe to say that most commercially canned foods are full of artificial preservatives and sodium.
"People want to know what they're eating and to know that it has no preservatives," she says.
Other reasons include a thriving local food movement, preference for organics, saving money by purchasing in quantities, an interest in heritage skills, and storing a bumper crop of summer fruits and vegetables, Judy says.
With the information and tools available today, you can successfully preserve just about anything you want.
PARAFFIN SEAL
Remember the waxy lid your grandmother used to seal her jams and jellies?
"Your grandmother heated jam, put it in a jar, and poured melted paraffin over it so it would seal along the edge," Judy says.
But the science of food preservation has determined that using paraffin is not the safest way to preserve jams and jellies, she says.
"In the time it took to melt the paraffin, mold spores from the air could get into the jars." she explains.
During storage, those mold spores can multiply and grow in the jam or jelly and simply scooping out the mold on top doesn't solve the problem, because mold spores reach throughout the jar, kind of like tentacles on a jellyfish, even though you might not see them.
And some molds are cancer-causing, so you don't want to ingest any of it. That's why if there is mold in your home-preserved food, throw out the entire contents of the jar, she says.
So put away the paraffin and use a safer method.
"All it takes is 5 minutes of processing in a sterilized jar," she says. "What could be easier?"
Simply heat your jam or jelly, and then spoon it into your canning jars, leaving 1/4 inch of headspace at the top. Seal with self-sealing lids and process in a boiling water canner for 5 minutes at lower altitudes. Adjust that processing time for higher elevations by adding 1 additional minute per 1,000 feet above sea level, she says.
OUTDATED METHODS
Times change, including the kind of food that we eat, and so do safe canning guidelines, Judy says. Safe food preservation requires killing the bacterium Clostridium botulinum in canned food, which may cause botulism — a deadly form of food poisoning.
Correct acidity and/or heat will kill Clostridium botulinum, but as food conditions have changed over the years, so have the recommendations to keep it safe.
"Now, vegetables are genetically engineered, so the acidity may not be the same as it was in the 1930s," she says. "If we have the science to preserve more safely, then why would you not choose to do that?"
Food is cooked much differently than it once was, which must be taken into account, she says.
"People used to cook foods to death and they ate them all soggy. Today, foods are cooked much lighter," she says.
Therefore, it's imperative to ensure that all bacteria is killed during the canning process. Otherwise, lighter cooking techniques may not destroy the bacteria.
HIGH/LOW ACID
Food comes in two types: those with high acidity and those with low acidity.
High-acid foods, such as fruits, jams, jellies, and anything you've pickled (by adding acid) contain enough acid to prevent the growth of botulinum bacteria, particularly when they're heated.
DETERMINING
pH — or ACIDITY:
Foods high in acid have a lower pH number.
Foods low in acid have a higher pH number.
The magic number: 4.6 pH.
Foods with numbers lower than 4.6 are high in acid and may be canned in a boiling water canner.
Foods with numbers higher than 4.6 are low in acid and must be processed in a pressure canner.
That's why high-acid foods can be processed in a boiling water canner, rather than a pressure canner. The acidity, combined with the heat, will kill bacteria.
Low-acid foods, however, such as all vegetables (unless they're pickled) and meats, are not acidic enough to prevent the growth of botulinum spores, and processing them at boiling water temperatures is not enough to kill the bacteria.
Higher temperatures are required to kill botulinum bacteria. That's why all low-acid foods must be processed at temperatures of 240 to 250 degrees F, and that requires a pressure canner.
PRESSURE CANNING
The pressure in a pressure canner is not what destroys bacteria; rather, the high temperatures it creates and applies for a sufficient period of time kills botulinum and other bacteria.
Water boils at 212 degrees at lower altitudes, but it boils at lower temperatures at higher altitudes. None of it, however, is hot enough to kill the botulinum and other microorganisms that will grow in low-acid foods, Judy explains.
"So we need to process at temperatures higher than the boiling water temperature," she says. "A pressure canner reaches temperatures higher than boiling water canning."
Most pressure canning should be done at 10 or 11 pounds of pressure, which is equal to 240 degrees F. You must reach at least 240 degrees and sustain it for a particular period of time, depending on what you're canning, to ensure all bacteria is killed.
The kind of canner you're using will determine at how many pounds you should process food.
• Dial gauge canner — This type has a dial to show exactly how many pounds of pressure have built up inside the canner. Canning directions indicate 6, 11, or 16 pounds of pressure.
Get your dial checked for accuracy each year before canning season starts, by your local extension agent or a hardware store.
• Weighted-gauge canner — This canner has weighted gauges designed to jiggle several times a minute or to rocking back and forth gently to indicate they are maintaining the correct pressure.
Canning directions indicate 5, 10, or 15 pounds of pressure. At high altitudes, you'll need to process at 15 pounds of pressure because of water's lower boiling point.
WHERE YOU LIVE
Your altitude is crucial to know when canning, because it factors into how you should most safely process food.
For example, water boils at 212 degrees at sea level, but the higher in altitude you climb, the lower the boiling temperature. Someone who lives in Colorado at about 6,000 feet can boil water at 201 degrees. Consequently, the high-altitude canner will need to increase their processing times appropriately to effectively destroy all bacteria.
Water Boils at Lower Temperatures as Altitude Increases
Altitude (in feet)
Temperature at which Water Boils
10,000
194°F
8,000
197°F
6,000
201°F
4,000
204°F
2,000
208°F
0 (Sea Level)
212°F
BOILING WATER CANNING
Boiling water temperatures, combined with the acidity level in high-acid foods, is adequate enough to kill bacteria.
But to do so effectively, the jars must be immersed, so boiling water canners, which are made of aluminum or porcelain-covered steel, must be deep enough so that at least 1 inch of briskly boiling water will be over the tops of jars.
CANNING FRUITS
Fruits, which are high-acid foods, can be preserved by boiling water canning in heavy sugar syrup, light sugar syrup, or in water, which is the best option for diabetics, Judy says.
"The sugar serves to keep the food plumper and helps it hold its color," she says. "The sugar doesn't determine safety."
If you're trying to avoid sugar, don't substitute it with artificial sweeteners in the canning process, she advises, because some will break down and become bitter-tasting.
Instead, preserve fruit in water, and then sprinkle it with artificial sweetener when you open the jar and eat the fruit.
SO, WHAT ABOUT TOMATOES?
Tomatoes may be considered a high-acid food by consumers, but in reality, their acidity falls right in the middle between low and high, and how they tip that scale really depends on their growing conditions.
So, to err on the side of safety, the USDA recommends acidifying tomatoes with either citric acid or bottled — not freshly squeezed — lemon juice.
That's because the acidity levels can vary in fresh lemons, she explains.
"With citric acid or bottled lemon juice, you know it's a safe product," she says. One tablespoon of bottled lemon juice or 1/4 teaspoon of citric acid must be added to pints of tomatoes, and double that for quart jars.
Out Here editor Carol Davis' canning specialties are tomatoes, her mom's salsa, and hot garlic pickles.
HOW TO: HOME FOOD PRESERVATION AND CANNING