Harvesting The Sun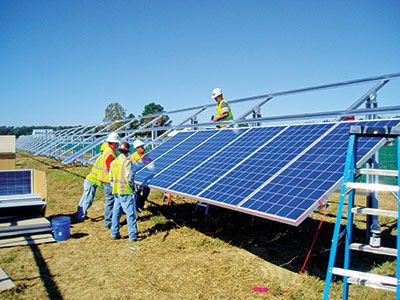 Construction workers putting solar panels together.
Energy firm creates solar farms — with some in very unlikely places
By Julie Thibodeaux
Photography by FLS Energy
A North Carolina solar company is growing the renewable energy industry one field at a time — without occupying prime farmland and environmentally sensitive habitats.
In fact, FLS Energy in Asheville, N.C., is known for opening one of the first solar fields built on a closed landfill in the United States, effectively giving new life to land that can't be used for nearly anything else.
Evergreen Packaging, a paper plant, owns the North Carolina landfill property and, in 2010, gave FLS Energy a generous deal, leasing the land for $1 a year on a 20-year contract.
The 3-acre solar farm in Clyde, N.C., not only provided zero-emissions energy for more than 50 homes, but it used land that would otherwise sit idle, because closed landfills generally can't be used for agriculture or development.
Constructing the large-scale photovoltaic system on the landfill posed unique challenges, however. The cap placed over the closed landfill had to remain sealed, which meant that FLS could not penetrate the ground when it installed solar panels.
But FLS engineers worked around that obstacle by building a concrete base strong enough to support 190 solar modules without sinking into the ground. And because the landfill's buried contents continue to settle and shift, all connections are flexible so they can easily shift with the land.
And while solar landfill projects are more expensive to build, they still offer communities appealing solutions for brownfields — property difficult to re-use because it's been contaminated or polluted.
Cleaning up and re-using these properties, however, protects the environment, reduces blight, and takes development pressures off green spaces and working lands, according to the U.S. Environmental Protection Agency.
Cleaning up and re-using these properties, however, protects the environment, reduces blight, and takes development pressures off green spaces and working lands, according to the U.S. Environmental Protection Agency.
FLS has located its second landfill solar farm at Fort Campbell, Ky., a military base that straddles the Kentucky-Tennessee line, and more will follow, says Brownie Newman, FLS's vice president of business development.
At the same time, the company has set its sights on acquiring and leasing more rural land in North Carolina and across the country to develop traditional solar farms.
The solar projects require 10- to 35-acre tracts, which is significantly less acreage than wind farms. FLS looks for lots that already are cleared with ample sunshine and flat, firm terrain.
They pass over land better used for agriculture or development, which drives up real estate prices. They also forgo sites that contain environmentally sensitive habitats. Sites must be near robust transmission lines that can transport 1-2 megawatts of energy.
Hundreds of sites fill the bill, Newman says. The trick is narrowing it down.
"We're actively looking at sites all the time," he says. "It's a good problem to have."
They've already worked with communities to target areas that lend themselves to solar development, Newman says. Many rural areas welcome their interest, as it offers an opportunity for landowners and counties to grow their economies and tax bases.
"Some communities are losing population," Newman says. "They haven't seen any growth or strong economic development in many years. When we come in and invest in solar projects in a county, we're injecting new life."
In North Carolina, solar farm leases go for about $600-$1,000 an acre annually. Once they're installed, FLS is responsible for maintaining the fenced-off fields; however, they often contract property owners to keep the sites mowed.
"It's not a get-rich-quick scheme," Newman says. "It's steady, long-term revenue."
Environmental sustainability is important to Tractor Supply, and we applaud others who feel the same way. That's why we're regularly featuring some of our customers and friends who are good stewards of the land. For more information on our Stewardship Program, click on
"Environmental Sustainability" at the bottom of our TractorSupply.com home page.
LESS COST, MORE EFFICIENCY
So far, FLS has developed four solar farms on a total of 34 acres. The company's goal is to expand into other states, such as Georgia, Maryland, Arizona, and California, and increase production, says Michael Shore, the company's CEO and co-founder.
Helpful to their development is that the cost to build and install these systems has decreased dramatically since the company started in 2006. The first project built by FLS cost $7 per watt; the latest project cost under $2 per watt. That downward trend is expected to continue, Shore says.
Additionally, the technology has become more efficient. Some 15 years ago, a solar panel could convert about 10 percent of sunlight into electricity; now it converts nearly 25 percent.
Shore, whose company has grown from three to more than 60 employees using U.S.-made products, said he's living the American Dream while maintaining the ideals he started out with as a crusader for renewable energy.
"Even when I was working as an advocate, I believed in the power of capitalism and the free market," says Shore.
"It's a great way to make a living and employ people. At the same time, it achieves the stewardship goals of cleaning the air and reducing pollution."
Julie Thibodeaux is a Texas writer who specializes in environmental topics.