Go, Mojo! | Summer 2013 Out Here Magazine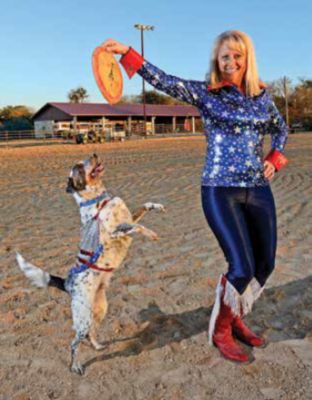 Mojo jumping up to reach a flying disc that Connie is holding.
Energetic four-legged performer brings smiles to many
By Page Ivey
Photography by Kevin Vandivier
When Connie Hall adopted the blue heeler-terrier mix puppy from an animal shelter near her Salado, Texas, home, she intended to train this very teachable breed to entertain a very important audience of one — her newborn grandson.
But after the unexpected loss of the baby, Connie started spending more time with the puppy — named Mojo — training and working off his tremendous energy while working through her own grief.
He's been a quick study, thanks to Connie's repetition methods and Mojo's uncanny ability to learn quickly.
Now, Mojo's purpose is to make as many people as possible smile — in honor of the baby's memory.
Mojo started his performance life with shows at nursing homes and a school for troubled youngsters and progressed to festivals, small-town concerts, a chuck-wagon cook-off, the Central Texas State Fair Professional Bull Riders Rodeo, and the National Barrel Horse Association Youth World Championship.
The act begins slowly with Mojo following a plastic flying disc and weaving in and out of Connie's legs; then he latches on to the disc and holds on while Connie swings him around.
When she shouts, "Let's go," Mojo begins to run the barrels like a barrel rider.
To teach him the barrels, Connie started with a small pattern, then moved to a second pattern, before putting it all together.
Mojo looks like he's smiling, she says, when he rounds the third and last barrel and goes running to catch the disc that she lets fly to end the trick.
Mojo will jump up onto a balance beam, sit down, and wait at one end as commanded by Connie, and then walk to the other end when she commands him to.
She has him put either one or two paws — whichever she instructs — on an object and tells him to wait until she counts to three, at which point, she flings the disc and he bolts after it.
If she forgets the order of their show, Mojo will remind her by starting the next trick in the act. He even taught her a trick.
He can sit, stay, roll over, and even play dead while Connie gives him "CPR."
If she forgets the order of their show, Mojo will remind her by starting the next trick in the act. He even taught her a trick.
When they start to play with flying discs, Mojo always seems to pick out one he likes better than the other. Once he has chosen a disc, he won't even touch the other one, she says.
"With the crowd, I could say, 'Okay, Mo, I want you to get the Frisbee with an "X" on it.' Naturally, if he's already touched that Frisbee, he's going to get the Frisbee with the 'X' on it," she says. "And that's his trick. That's something he taught me."
Mojo's smarts may be part of his genes.
Heeler is another name for Australian cattle dog, which are widely regarded as some of the most trainable dog breeds. They were originally bred in Australia in the 1800s to drive herds of cattle over long distances and the name heeler comes from their tendency to nip at the heels of cattle they are herding.
The high-energy breed needs lot of play and work time every day to burn off some of that energy. "You constantly have to do something with him," Connie says. "I always have a ball at my feet."
Connie trains and practices with Mojo at the small ranch she shares with her husband, Bill, a longtime auctioneer, who definitely wasn't looking for a new dog when Connie brought Mojo home.
"We already had dogs — one that's half coyote — and here she comes with a new puppy," he recalls.
But Mojo, who's becoming a bit of a celebrity on the rodeo circuit, seems to have arrived at just the right time.
Page Ivey is a South Carolina writer.