From Foe To Fodder | Summer 2013 Out Here Magazine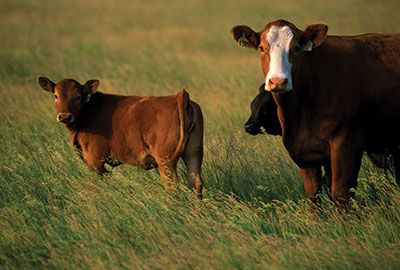 Save money, time, and aggravation by training your cows to eat weeds

By David Frey
Photography by Greg Latza
For lots of farmers and ranchers, fighting weeds is a constant, and costly battle, waged every year with gallons of herbicides.
It doesn't have to be that way, Kathy Voth says. The best weed killer may be a cow.
"It's so much less expensive than herbicide," Kathy says. "And as it turns out, weeds are more nutritious for animals than grass is."
Kathy has researched and worked with livestock as a land management tool for more than a decade and runs her Colorado–based business,
Livestock for Landscapes, which teaches farmers and ranchers to use their cows as all-natural weed control. That means training cows that weeds are yummy.
"What we found is animals eat what they've always eaten," Kathy says. "Just like farmers do what they've always done."
Cows don't usually gravitate toward weeds. When they're out at pasture, they're more likely to stick to grass. But that's not because they don't like weeds, Kathy says, and it's not because weeds are bad for them. It's simply out of habit.
But Kathy has developed a weeklong training method to convince cows to try something new. Training starts with cow candy, such as rolled corn and oats.
"What they learn is, every time I show up and put something in the feed tub, it may look strange or smell strange, but if you try it, it will be good," she says.
By the fifth day, they're enjoying a diet of, say, leafy spurge. That's huge, because leafy spurge is a creeping perennial weed that can reduce rangeland cattle carrying capacity — or how many cattle a field can adequately feed — by 50 to 75 percent, partly because it prevents grass from growing.
By the seventh day, they're seeking out weeds on their own.
"They teach all their herd mates to do this, too," Kathy says, "so if you teach 20 cows, they'll teach all the rest of the cows and you're done."
She based her work on discoveries made by researchers at Utah State University, and on decades of animal behavior studies.
Kathy first focused her attention on goats, which aren't so wary about weeds. But ranchers, she discovered, weren't bullish on goats, which required a lot more fastidious fencing than cattle. Because many farmers already had cows, she decided, retooling cows from grass eaters to weed killers was the key.
It isn't so hard, she discovered. Cows respond favorably to flavor and smell. They also respond cautiously to toxins. As a result, she says, cows can dine on poison ivy and poison oak, and even more dangerous weeds, without ill effects, because they eat it in moderation.
"Since they're eating a low dose, nothing bad happens to them," she says.
The benefit for farmers isn't just a healthier farm; it's a healthier cow. Weeds are more nutritious than grass, Kathy says, so they bulk up much faster eating much less.
"Particularly in drought years, that would be huge," she says. "All these years we've been killing things that are good for animals to eat."
But farmers have been using chemical herbicides for generations, and they haven't been in a hurry to change techniques, even if the old ones aren't working so well.
"I had one rancher say, 'I've been spraying the same weed for 20 years and I haven't made any progress,'" Kathy says.
For her, the answer is simple. Stop spraying and let the cows do the work.
It seems attitudes are slowly changing. Three years ago when she talked about her ideas at an agriculture conference, attendees practically laughed her out of the room. Last year, they invited her back as the keynote speaker.
"To me it seems obvious," she says. "We can't beat them, so we should eat them."
David Frey is a Maryland writer and frequent Out Here contributor.