Farm Interns | Summer 2013 Out Here Magazine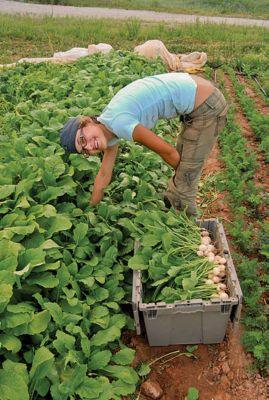 Ashley Rodgers picked turnips and lots of other vegetables during her farming internship at Serenbe Farms in Palmetto, Ga. She now farms nearby.
On-the-job training teaches much more than just planting and harvesting
By Nancy Mann Jackson
Photography by Serenbe Farms
When Maya Velasco spent summer weekends volunteering at a Pennsylvania organic farm, the new college graduate with a degree in Spanish and political science found herself drawn to farming instead.
The organic farm owner suggested she try an apprenticeship to learn what it takes to be a farmer. Maya got an internship at Serenbe Farms in Palmetto, Ga., which is one of hundreds of farms across America that offer internships or apprenticeships for young people interested in farming.
For eight months, Maya and the other interns worked at planting, crop rotation, soil fertility, and sales while also attending classes in the farm classroom, earning a monthly stipend plus room and board.
"We share with them and let them experience our different marketing avenues; they deliver to restaurants, see our ordering and packing systems, meet CSA members, sell produce at the farmers market," says Paige Witherington, Serenbe farm manager.
"They do everything from bed preparation, direct seeding, irrigation, weeding, to harvesting and bunching flowers for sale," she says. "We're very open about our record-keeping and the office work and business skills that go into our operation and our apprentices usually find which marketing outlets will work for them when they begin to farm."
After a season of learning and hands-on work, Maya now makes a living farming.
Because Natalie Sevin's academic experience also was unrelated to agriculture — her degree is in anthropology — the hands-on experience she gained through internships was "crucial" to her ability to pursue a career in agriculture, she says.
After college, Natalie joined the Peace Corps in Mali, West Africa, where she became interested in sustainable agriculture, which led to her farming internship.
By interning at Pennsylvania's Cherry Valley CSA and Serenbe Farms in Georgia, Natalie gained the technical skills needed to manage a small organic vegetable operation, which is what she now does. "I gained confidence that a small organic vegetable farm is a viable career option," she says.
MK Barnet, of Myersville, Md., who owns Open Book Farm with her husband, says her farming internships taught her much more than the basics of tractor use, greenhouse propagation, and harvesting techniques.
They also gave her valuable farm business experience such as keeping excellent records, she says.
For those who don't study agriculture in school, a farming apprenticeship can become career training.
"Few things are more useful as a small, diversified farmer than having plentiful information to look back on a season and improve the following year," she says.

"My apprenticeship was basically my sole training for my farming career," Maya says. Besides the basics, she learned about endurance. "Farming can be well over 40-hour work weeks," she says, "so I learned a lot about just sticking with it 'til the job's done."
Before signing on for a whole-season internship, Maya recommends volunteering on a farm first. "Make sure you understand what farm work entails" she says.
Determine your true financial needs during the internship period, MK advises.
"There are great apprenticeships that pay very little," she says, "but if you have car payments or student loan payments due, these may not work for you."
Find a place that fits your interests and goals.
"Try to get a sense of the farm's financial situation during the application process," MK says. "If the farmer is not making money, or on track to do so in the near future, their models may not be useful to you, if you plan to make a living as a farmer."
Nancy Mann Jackson is an Alabama writer.