The Misunderstood Possum | Spring 2013 Out Here Magazine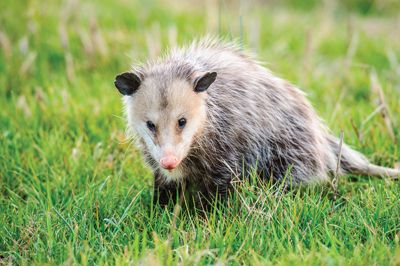 Possums are not destructive, dirty, or mean and they do lots of good
Possums don't deserve a bad rap. They're clean, they rid your property of pests, and they're not destructive.
By David Frey
Photography by iStock
It was love at first sight. Leslie Bale had become curious about this critter she kept hearing about. Working the graveyard shift as a police dispatcher in Irvine, Calif., she kept getting the same kinds of calls.
There's someone in my car.
There's someone on my roof.
When officers went to investigate, they found the same culprit, time after time: a possum on the prowl.
"I said, 'What's this possum thing?' I had never seen one before." So when an officer was sent to help an injured possum that had been hit by a car, Bale tagged along.
"The moonlight hit its white face and it kind of looked silvery and I said, 'What a beautiful animal!' The officer just sort of rolled his eyes."
Opossums, as they're formally called, or possums, as they're commonly known, aren't often described in such glowing terms.
Many people think of them as ugly, creepy, dirty, scary, damaging, and dangerous.
Wrong on all counts, says Bale, who ought to know. She's president of the Opossum Society of the United States. Possums are misunderstood creatures, Bale insists. They're not just benign; they can actually be a boon for gardeners and homeowners.
"I think they get a bad rap," Bale says.
Their diet mostly consists of insects, such as cockroaches and crickets, which many homeowners are happy to get rid of. They can eat a dozen snails a night — a big help to gardeners. Possums also eat rats, mice, and dead animals. Some farmers and gardeners actually try to introduce possums to keep down pests, Bale says.
So why the nasty reputation?
Maybe it's the tail. It uses the prehensile tail for balance, like a monkey, especially when navigating tree branches, but the long, hairless tail can make it seem more like a nasty rat than, say, a cuddly squirrel.
Maybe it's because they're nocturnal, so they slink around at night.
Maybe it's because they seem dangerous, even though they really aren't. Back a possum into a corner and it'll flash its "alligator mouth," Bale says, a jaw full of 50 sharp teeth that make it look ferocious.
"People get afraid of all those teeth," she says. But not to worry. Possums won't attack. Often, their defense mechanism is just the opposite. They "play possum," falling into a comatose state when danger approaches and laying unconscious for several minutes.
Possums will nest in a home or a shed if they find a hole that lets them inside, Bale says, but unlike squirrels or mice, which can be pretty destructive, possums don't gnaw and they don't dig. "Their fingernails are like yours and mine," she says.
Getting rid of them is unusually easy. Just wait a couple days. "They're transients," she says. "They don't sleep in the same place."
Possums rotate among a few dens, so when they move out, just find the access hole, seal it up, and the possums will move elsewhere.
Far from trying to get rid of possums, Bale raises them in her Bellflower, Calif., home, nursing orphaned baby possums until they're about five months old, as big as her hand, and ready to fend for themselves in the wild.
That gives her an up-close-and-personal look at these unusual creatures, which have existed since the age of dinosaurs. They're the only native marsupial in the United States, and while various species are scattered around the globe, from South America to Australia, one species, the Virginia white-faced opossum, calls this country home.
Far from being dirty, Bale says they clean themselves fastidiously, like cats, and they almost never carry rabies. Their internal body temperature is too low to support the virus.
"I heard so many misconceptions that they were dirty and sickly and I just found it not to be true," Bale says. So she dedicated herself to spreading the word, and a little love, for this misunderstood marsupial.
David Frey writes in Gaithersburg, Md., amid plenty of possums and other wild critters.