Out Of The Blue | Spring 2013 Out Here Magazine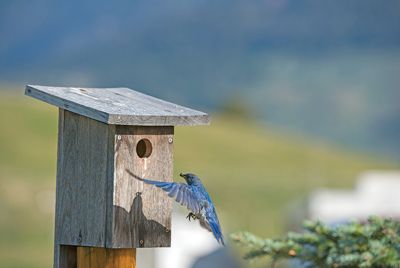 Build the right nest box and experts say bluebirds will come
Installing bluebird boxes not only helps the bluebird population stay healthy, but it's an enjoyable way to observe the birds' life cycle.
Photography by Tom Milner
When Pauline Tom moved to Mountain City, Texas, 10 years ago, the nearest bluebirds were 40 miles away from her rural community near Austin.
After installing bluebird nesting boxes around the area, she eventually enticed a pair to her property. Now, it's not uncommon for a dozen bluebirds to gather at her birdbath.
"It's like planting wildflowers or a beautiful garden," says Pauline, president and cofounder of the Texas Bluebird Society. "It's quite a joy to see bluebirds and know I had a part in that happiness."
Interest in bluebirds continues to grow, and many people across the country - bluebirds are found in every state in the contiguous United States - have installed nest boxes in their yards to ensure they stick around.
Bluebirds were once in decline from habitat loss and pesticide use, but they've bounced back due to plenty of nest boxes.
"There's something inherent about bluebirds that people love and are attracted to," says Jason Martin, a wildlife ecologist for the Cornell (University) Lab of Ornithology.
Indeed, bluebirds are the most popular of all the wild birds tracked by NestWatch, a Cornell program that enlists volunteers to collect data.
Though bluebird populations were once in decline due to habitat loss and pesticide use, the birds have bounced back, partly with the help of the North American Bluebird Society, which urges people to put up nest boxes, bird houses created specifically to attract blus birds, to make up for the dead trees and old woodpecker holes that have become scarce in developed areas. The boxes also offset competition for nesting sites from house sparrows, an invasive species introduced from Europe in the 1850s.
Installing boxes not only helps bluebirds, but many find it to be a rewarding activity. Bluebirds tend to be gregarious, Martin says. They're not easily spooked and seem to enjoy having people around. They like mealworms the way kids love candy, and the treats can be used to attract them.
Building and installing a nest box also offers a way for the whole family to observe their life cycle - from watching the parents build their notoriously neat nests to counting the blue eggs to seeing the babies leave the nest.
Keith Kridler, coauthor of The Bluebird Monitor's Guide and cofounder of the Texas Bluebird Society, puts nest boxes up on roadsides and properties as he goes about his job as a construction contractor in Mount Pleasant, Texas. He monitors about 300 nest boxes and has fledged as many as 1,200 bluebirds a year.
ATTRACT YOUR OWN
Three species of bluebirds exist in North America: the eastern, mountain, and western bluebird. While every state has unique conditions that affect which species live where and how they will do, some basic principles apply:
• Build it and they will come. Bluebirds are cavity nesters. They need a natural or man-made cavity to build their nests in. Installing a nest box designed for bluebirds is the best way to attract them. The opening should be about 1 inch wide for eastern and western bluebirds and slightly larger for mountain bluebirds, Kridler says. He recommends a large overhanging roof and good side ventilation for southern states where heat is a factor.
• Location, location, location. Put your bluebird box in an open area near mowed grass. Bluebirds eat primarily insects, and short grass provides better hunting grounds. Scattered trees, fence poles, and power lines provide excellent perches for bluebirds to survey their territory. While some experts recommend spacing nest boxes about 100 yards apart, Pauline Tom recommends putting up several in an area to give the birds a variety of locations from which to choose.
• Safe housekeeping. Nest boxes should be monitored weekly and predators should be discouraged. Enemies of bluebirds include snakes, raccoons, fire ants, other birds, and vandals. Mount the nest box on a metal pole far enough away from trees and fences to keep predators from climbing down on or up into the box. Install a baffle as a further deterrent. Some bluebirders recommend greasing the pole to ward off fire ants. Remove old nests after the babies leave.
• Go organic. Not only are pesticides and herbicides harmful to birds, they kill insects, which are the bluebird's primary food source. However, because bluebirds eat insects, many farmers and gardeners like having them around for natural pest control. Bluebirds also eat berries as a supplement. Plant native trees and shrubs nearby that produce fruit they eat and that attract insects.
• Get help. Contact your nearest bluebird society. Members will know the problems and conditions unique to your region. The North American Bluebird Society has a list of associations on its website. In addition, find a copy of the Cornell Lab of Ornithology's handbook, The Bluebird Monitor's Guide, which is considered by pros to be the ultimate resource.
• Don't give up. Even if you don't get bluebirds to move in to a nesting box right away, nature lovers can enjoy other native species that take advantage of the accommodations, says Kridler, who has been installing and monitoring bluebird boxes for more than four decades. "Chickadees, tufted titmice, warblers, bumblebees, flying squirrels - there's a lot of different natives that will use them," he says. "Every box has a story."
Julie Thibodeaux is a Texas writer.