Buying A Riding Mower | Spring 2013 Out Here Magazine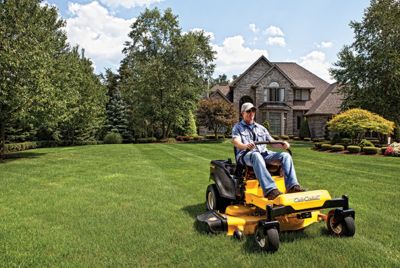 Choose a rider that does everything you need it to
By Carol Davis
Photography courtesy of Cub Cadet
Shopping for a new riding lawn mower should be like buying a car; take the time to find the right model that does everything you need it to; whether it's mowing your lawn, or hauling, tilling, and moving dirt.
"Not all riding mowers are created equal," says Jeff Salamon, director of marketing for Cub Cadet, a leading brand of outdoor power equipment.
As you look at which mower to choose, consider some important questions. How much land are you mowing? Is it flat or hilly? Is it open, or does it have lots of obstacles, such as trees, outbuildings, and flower beds? Who in your family will be using the mower? How important is it to be comfortable and have easy control of the mower?
PROPERTY SIZE AND TERRAIN
If you have a large and fairly flat property up to 2-3 acres consider a zero-turn riding mower, which delivers unsurpassed maneuverability to navigate around any obstacle and cuts mowing time significantly.
If you have up to 3 acres and want to do more than mow, a lawn and garden tractor may be your best bet; delivering a superior cut and nearly unlimited versatility for year-round lawn and garden chores.
BEYOND MOWING
If you're seeking a mower to do much more than mow, consider engine power and what attachments it will accept.
Lawn and garden tractors can accept a wide variety of attachments such as a front blade, cart, garden tillers, spreader, mulch kit, bagger, dethatcher, snow blade, and more.
LOOK FOR QUALITY
Make sure your new mower is built for durability and longevity. Consider the construction of the frame and the thickness of its gauge. It may seem contradictory, but a higher gauge number is actually thinner than those with a lower gauge, which means a 9-gauge steel frame is thicker than a 12-gauge steel frame.
One of the most important features of a mower is the warranty and the brand that stands behind it. Make sure you're comfortable with the warranty that a particular mower offers.
PROVE IT TO YOURSELF
You probably wouldn't buy a car without test-driving it, so why should a riding mower be any different?
Salamon encourages customers to test drive several models, checking that the controls are convenient and the suspension and seating are comfortable. Then you can best compare features and make a decision based on what you need.
Carol Davis is editor of Out Here.