Build A Raised Garden Bed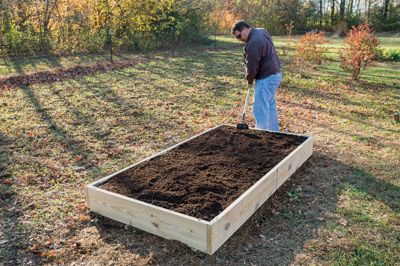 Raised garden beds give you the ultimate control over your soil.
Grow your plants in the best nutrient-rich soil
Photography by Mark Mosrie
If you have longed for your own garden but your back yard that isn't really suitable for growing vegetables, then a raised garden bed just might be the best answer.
It's simple to build, takes just a short time, and can be done at a relatively low cost.
A raised bed is the solution for areas with poor soil, because you will fill it with nutrient-rich soil that encourages vigorous plant growth and development.
"You're basically controlling the soil content and all the nutrients, so what's underneath the bed doesn't really matter," says Daryl Walny, a gardening enthusiast who has built four raised garden beds in his Nashville back yard.
"The first year we did this, we had tomato plants that were 7 feet tall," he says. "The flavors from everything are just amazing, from the great quality soil that is there."
Once you've decided where to place your bed or beds and have all the materials, you can build a raised garden bed in the morning and be planting by afternoon.
WHAT YOU'LL NEED
The standard dimension of a raised garden bed is 8x4 feet. You don't want it any more than 4 feet wide so you can easily reach the middle of the bed from either side for planting, weeding, and tending.
You'll want to purchase untreated 2x10 lumber — two 8-foot pieces for the sides and two 4-foot pieces for the ends.
Cedar is considered best because it lasts the longest and is perhaps more aesthetically pleasing, but it's very costly and isn't really necessary. Less-expensive lumber will suffice, and make sure that it's untreated. Pressure-treated lumber contains chemicals that could be exposed to the soil and your plants.
You'll also need 2½-inch screws or nails. Screws probably will hold a little longer, but nails are fine if you prefer. For additional support, you'll want to include corner brackets for the top and bottom of each of the bed's corners.
For loosening the dirt where the bed will be placed, you'll need a hoe, rake, and pick, if there's a good amount of roots and rocks. A small gas-powered hand tiller will work even better. Other tools needed are a hammer or a screwdriver.
You'll need several bags of soil, of which you can buy premixed or you can mix your own. The ideal mixture is approximately 60 percent compost (a great time to start your own composting if you haven't already); 20 percent peat moss or vermiculite; 10 percent sand; and 10 percent worm castings, or vermicompost.
THE PREP WORK
First, decide where you want to place a raised garden bed, or beds. If you decide to build more than one, leave a couple of feet or so between each bed to give you plenty of room to walk between them.
Measure out the dimension of the raised bed and then begin to break up the ground where the bed will be placed. The purpose of this step is to provide loose, well-drained soil at the base of the bed.
If the area is grassy with lots of roots, you may want to use a garden tiller. After the ground is broken up, use your rake and hoe to smooth it out.
READY FOR CONSTRUCTION
Building the raised garden bed is simple, but you'll want to enlist the help of another person for holding the sides and ends while you use the hammer or screwdriver. It will also take a couple of people to place the bed in its desired location once it's constructed.
Connect an end piece to the edge of a side piece with four or five nails or screws. Using an air hammer or a drill gun can save time and energy, but it isn't necessary. Repeat this step at the three other corners, and then attach four corner brackets. Turn the bed over and attach four corner brackets on the other side.
The bed is now ready to place on the prepared ground.
TO THE TOP
Once the raised garden bed is in place, you may choose to lay down cardboard or landscape fabric as a base to help with weed control.
Begin filling the bed with your nutrient-rich soil. You may want to mix all the soil ingredients ahead of time and pour the soil mixture into the bed, or you can dump the ingredients separately into your bed and thoroughly mix them with a tiller, rake, or hoe.
Fill to the very top of the bed, and you'll have fertile and nutrient-rich soil that is 10 inches deep. Your raised garden bed is now ready for planting.
John McBryde is a Nashville-based writer.