Beware of E15 Fuel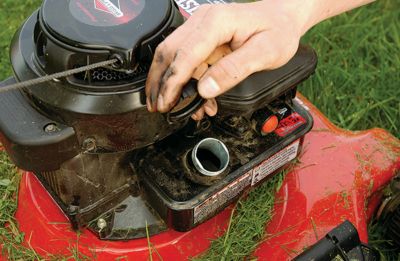 By Hollie Deese
Photography by Greg Latza
It used to be that after you were done filling up your gas tank at the station, you could then turn right around and fill up a second container to take home for your lawnmower, string trimmer, chainsaw, or other outdoor power equipment. But that just isn't the case anymore as E15 fuel makes its way into the marketplace.
"For the first time, what you put in your car could kill everything else," says Kris Kiser, president and CEO of the Outdoor Power Equipment Institute. "You have to be mindful and know that the cheapest gas might not be the right gas."
Before 2010, the amount of ethanol in gas was limited to 10 percent ethanol to 90 percent gasoline, E10. Now E15, a blend of 15 percent ethanol and 85 percent gasoline, is becoming available at gas stations and the effects on non-road engines can be devastating.
"Ethanol is alcohol, so it absorbs water," Kiser says. "And if you add water to fuel there is a problem. It separates the gasoline. It runs hotter and faster, so you get heat issues. It is highly corrosive. It eats away at rubber and plastic components so you get potential fuel leaks and all kinds of other problems for outdoor power equipment."
E15 is approved only for a subset of the auto fleet, and is specifically forbidden by the federal government for any non-road use. In fact, it can take just one batch of E15 to destroy your small engine and you might not even know you did anything wrong.
The Environmental Protection Agency has required gasoline retailers to put a sticker on pumps that use the fuel, but Kiser is concerned it is not enough, nor informs consumers how devastating it could be to use the fuel in non-approved vehicles.
"We certainly think it is not clearly marked," Kiser says. "People are not educated about this."
People largely make their purchasing decisions on price, he notes, and ethanol has less energy in it so it likely is going to be cheaper, and people will inadvertently buy that gas.
Stabilizer additives are one solution. They are added to gasoline to counteract the effects of ethanol on your engine.
Consumers should know that E15 is not everywhere yet and is not allowed at all in 18 states. In fact, the country's first E15 pump was installed in summer 2012 in Kansas, with more later added across that state, Illinois, and Iowa.
But the future of the fuel remains up in the air due to lawsuits and litigation. A variety of groups representing the motorcycle, off-road, agricultural equipment, and boat industries alleged that the E15 fuel hasn't been tested sufficiently to guarantee that it won't damage engines.
For now, it is up to consumers to be careful about what fuel they choose, and to look for the orange and black sticker that alerts them the fuel is higher than E10.
"This is a substantial issue and it is imperative to now be on the lookout for the fuel," Kiser warns. "It is making its way to the marketplace so know what you can and can't put it in."
Hollie Deese is a writer based in Gallatin, Tenn.