Barn Preservation | Spring 2013 Out Here Magazine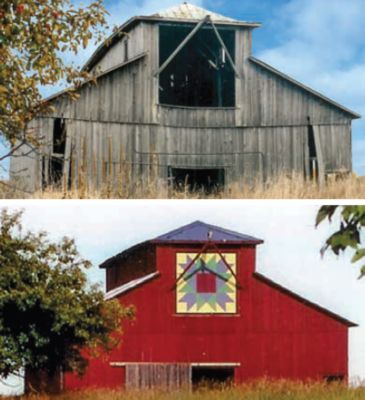 This old Midwest monitor barn now wears a quilt block, which has become popular. Several states offer barn quilt tours.
New life is possible for old barns
By Jan Corey Arnett
Photography by Jan Corey Arnett
Architect Larry Rizor and a business partner saw marvelous potential in an abandoned barn in downtown Battle Creek, Mich., that was built in 1922 and once had been home to the community's Sullivan Dairy operation.
The three-story, seven-bay barn had housed horses and wagons — and later, small milk trucks — used to deliver milk door-to-door around the city. But as home delivery went by the wayside, so, too, did the barn, and for many years it stood empty.
The men bought the barn, got it designated to the National Register of Historic Places, and restored and updated it for modern use. Instead of horses, the barn now houses the offices for a variety of professional companies, along with Rizor's architectural firm.
"It has remained fully occupied since its opening in March 2003," Rizor says.
Saving the landmark is meaningful to Battle Creek; people routinely show up there bearing photos from the days when they or a family member worked for the Sullivan Dairy.
MORE CHARACTER
Most old barns you see along the road may be crammed with clutter or eerily empty. Consolidation, specialization, mechanization, and regulation have changed farming, along with the onslaught of highways, housing, and high-speed lifestyles.
When the dust settles, Grandpa's timber-frame barn built many decades or a century ago seems out of sync. What is to be done with it?
Well, for those that remain in reasonable repair, new life is possible.
Artists and tree growers, Lee and Naomi Peck of Ceresco, Mich., had a crew of Amish workers repair two old barns for use in their tree business, and convert a third into their home.
The work has been done in stages over a period of years but the results are striking.
Indeed, traditional barns are being converted into just about as many uses as creative minds can create — homes, offices, retail space, restaurants, community centers, classrooms, museums, art and recording studios, veterinary clinics, wineries, churches, theaters, bed & breakfasts, and more.
And sometimes, the barn gets to once again be used for what it originally was intended.
When Omega Farms, a well-known Angus cattle operation, moved back to Michigan from Kansas in 2008, repairs began on 14 of the farm's 24 barns that had stood empty for decades after multiple farms became one 4,000-acre set-up. The best "bones" from some barns were used to repair others.
"We are having a ball with this," says Clifford Simmons II, who owns the farm with his sister, Christine West. "These barns have more character than metal buildings could ever offer."
Rob Getzloff of Getz-Milk, Dairy L.L.C. in Michigan's Upper Peninsula, retrofitted the timber-frame barn on his family's farm to house a computerized milking parlor and a maternity ward for cattle.
Encouraging and supporting these efforts are more than 30 barn preservation organizations across the United States to encourage repair, reuse, and creative adaptation.
Some preservation groups are able to offer grants for barn repair, while others focus on barn tours, informational workshops, give awards to encourage preservation, and post lists of barn contractors.
They even encourage moving the barn if setting it up someplace else will protect it. Barns can be moved in their entirety, sectioned, or disassembled depending the condition of the frame, its size, intended use, route, distance, and seasonal conditions.
WORTH THE COST
Costs to save old barns for new uses can vary enormously, making it misleading to offer dollar figures, agree many who work in various aspects of barn preservation and reuse.
The price tag to repurpose an old barn depends on many factors: the condition of the structure at the start; how much original wood is reusable; whether the barn is being relocated; what its new purpose will be; desired alterations; and code requirements.
An assumption that all barn-related projects cost "a lot" is just not accurate.
That misperception leads to losing even more barns, says Jeremy Rose, a Michigan contractor who specializes in taking barns down that are beyond repair.
"We live in a society that thinks everything is disposable. We don't repair the old; we throw it away and buy new. It should not be that way with barns," he says. "If you want to save your barn, vocalize your budget, have the work priced in stages. A good contractor will work with you."
Good barn contractors calculate work in stages with the most critical work first and each stage priced separately. This is helpful to owners who may wish to do some of the work themselves.
NEW PERCEPTIONS
Only about 662,264 barns built before 1960 remain on farms nationwide, says the 2007 National Agricultural Statistics Service census. Even fewer remain today as old timber-frame barns deteriorate and are lost to the elements.
As they become more rare, however, perceptions of them are changing as people begin to recognize and value the appeal, romance, and historical value of old barns.
Insurance companies once deemed old barns "liabilities" but are beginning to change their views as they see old barns given new lives.
Real estate agents, too, are finding that the barns have creative appeal to buyers, giving credence to the wisdom of keeping a barn in good repair because its greatest value may lie not in the past, but in the future.
Michigan writer Jan Corey Arnett is known as "The Barn Lady" for her extensive work in saving heritage barns.
Web Extra
To see more examples of barn preservation documented by Jan Corey Arnett,click here.