Animals on a Mission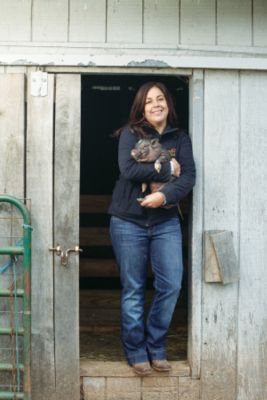 Janel Ashburn offers therapy for children and adults with chronic illnesses or special needs, and sanctuary for unwanted animals.
Chickens, sheep, llamas, and even skunks transform lives of people with special needs
By David Frey
Photography by Sean Simmers
On her Selinsgrove, Pa., farm, Janel Ashburn raises sheep and goats, chickens and horses, llamas, emus, and de-scented skunks. The most important things she raises, though, are the spirits of people with special needs whose lives are turned around by the animals on her farm.
Janel runs Animals on a Mission, which provides therapy farm animals for the physically, mentally, and emotionally challenged. Sometimes they're children fighting cancer. Sometimes they're developmentally-disabled adults who have spent their lives in an institution. No matter who they are, a few hours at the farm can become a life-changing experience.
"Animals teach people how to be empathetic," Janel says. "They teach people to focus on something other than themselves. They teach people a sense of responsibility. They reduce anxiety. They reduce loneliness. They reduce heart rate and blood pressure. They improve interaction among people. And then there's the whole entertainment aspect."
Janel should know. She was her first client. Before running Animals on a Mission, she was an intensive care nurse, and the job took a daily toll on her.
Coming home to her farm brought her comfort, she says. "We'd go out and feed everyone. We'd groom the horses and goats. Remarkably, we'd all come in happier."
She realized it might do the same for others, too. Soon Animals on a Mission was born, offering therapy for children and adults with chronic illnesses or special needs, and in many cases, offering a sanctuary for animals that are old or abandoned.
"People don't realize how caring farm animals can be," Janel says. "I think people often look at them as an agricultural item, not something that can return feelings. We see on a daily basis that every farm animal has its own personality."
Her farm is part of a growing awareness that animals play an important role in human wellbeing. A mounting body of research shows that human beings need to feel attached to the living world.
"We literally have good examples of how animals are involved in human health all the way across the human lifespan," says Philip Tedeschi, executive director and co-founder of the Institute for Human Animal Connection at the University of Denver. "From early childhood all the way into the challenges of adolescence, to at-risk youth, to adult mental health applications, all the way to the end of life into hospice."
Humans need to interact with nature, Tedeschi says. It's why we have windows in our homes and plants in our offices. Dogs, cats, and horses are common therapy animals, but all sorts of animals can be therapeutic, as long as they're safe and bond with us, Tedeschi says.
"You have a genuine relationship that's very similar to some of our safest and most valued attachments in our human framework," he says. On a physical level, caring for animals makes us feel accepted. On a neurological level, it increases levels of oxytocin, the brain chemical behind bonding between mother and child and romantic couples.
Janel has seen time and time again how her animals transform lives. There was the man who never took off his sunglasses or his backpack, like they were his entire world, until he started caring for a pony.
"He felt more responsibility for the pony than he felt for what was in the backpack," she says.
Then there was the woman who never wanted to participate in group activities, until she came to the farm. Soon she was the first one on the bus and active in all sorts of activities. It was like she became a totally different person, Janel says.
"There are probably a million and one stories like that," she says. People come to her farm to care for the animals, she says, but the satisfaction they feel ends up changing their own lives forever.
David Frey writes in Gaithersburg, Md.
READ MORE
ANIMALS ON A MISSION SUCCESS STORIES
Read more of the remarkable effect the farm animals at Animals on a Mission has made on people with special needs by clicking here.
And if you want to know more about Animals on a Mission, call Janel Ashburn at 570-495-3142, or visit her website at ashburnsanimals.com.