America's First Chicken | Spring 2013 Out Here Magazine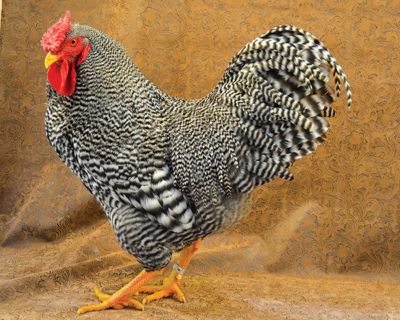 The Dominique, an excellent forager and easy keeper, is the perfect homestead bird. They're a dual-purpose breed, but they are known for being prolific egg-layers.
Dominiques are superb egg-layers and easy keepers
By Jeannette Beranger
Photography courtesy of ALBC
The Dominique chicken is recognized as Americas first chicken breed and there is hardly a rural family in the eastern United States that doesn't recall these birds on their grandparents farm.
The exact origin of the breed is unknown, but they most likely were created from European chicken breeds and later some Asian varieties. The Dominique was plentifully bred as early as the 1820s, when they were a popular dual-purpose fowl.
Interest in poultry breeding dramatically increased during the great Hen Fever period of the mid-1800s, when chicken breeding was all the rage in Europe and then America.
The New York Poultry Society decided in 1871 that the rose-combed Dominique would become the standard for the breed. Their rose comb, coupled with the Dominiques close feathering, made this breed well adapted to the cold but they can adapt to almost any climate.
Their close feathering also once provided their owners with ample feathers to stuff pillows and feather beds.
Dominiques were never used commercially, and the breed eventually was overshadowed as public demand shifted to the larger breeds, such as the Plymouth Rock. They managed to keep their place in rural America during the Great Depression of the 1930s because they were so hardy and easy to keep.
As the commercial poultry industry emerged after World War II, the Dominique declined further and by 1970 a scant few perhaps less than 300 remained. The Dominique Club of America was formed in 1973 to develop cooperation between remaining owners and cultivate new enthusiasts to champion the breed.
Their efforts spiked in 1987 when the American Livestock Breeds Conservancy became involved and published key articles to raise public awareness of the breeds rarity and importance in American history.
The tireless recovery work of dedicated breeders paid off and by 2003, a breed census by ALBC revealed that the population had increased to more than 1,000 birds. The Dominique continued to gain momentum through the publication in 1997 of the book, The American Dominique, by Dominique breeder Mark Fields of Missouri.
Today the breeds club is still going strong and has more than 200 members. Although the Dominique is on its way to recovery, its still listed as Threatened with a population of less than 5,000 breeding birds.
If you are looking for a great homestead bird, the Dominique could be considered a Cadillac among chickens. They are excellent foragers and easy keepers. Although theyre considered a dual-purpose breed, these birds are first and foremost egg layers, producing 230-275 brown eggs a year. They also earn their keep by foraging and raising a couple of clutches of chicks annually.
Breeders must make sure to maintain the Dominiques breed standards to reap the full benefits of this chicken, says Tracey Rodenbach, Dominique Club president.
Care must be taken in not breeding individuals that are too large and outside breed standard, she says, as this could affect the thrifty lifestyle they are valued for.
Jeannette Beranger is the ALBCs Research & Technical Program Manager.