Waves of Color | Fall 2013 Out Here Magazine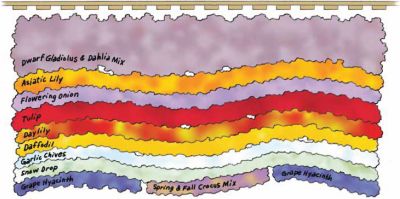 An illustrated pattern for a colorful bulb garden
Get Blooms All Spring and Summer with a Bulb Garden
Illustration by Tom Milner
There is something truly miraculous about digging a hole, placing a bulb in it, and then seeing a plant emerge and bloom weeks or months later.
We hear the term "bulb" used for many plants, but only a few of our favorite spring blooming flowers are actually "bulbs." Bulbs such as tulips and daffodils are shaped like an onion with a flat bottom — where roots grow — and a pointy top.
They also have lots of fleshy layers with a paper-like covering, called a tunic, on the outside. These underground bulbs are organs that the plant uses to store up nutrients for the following year.
Other bulbous plants that we often include under the term "bulb" have storage organs, but are different in shape and the way they grow. Gladiolus and crocus' storage organs are circular; begonias' "bulbs" are shaped like a swollen cigar; dahlias' tuberous roots grow in clusters; and irises' rhizomes are chubby, horizontal underground stems that generally are oval in shape.
When we combine true bulbs with all the other bulbous plants, we can create a colorful wave of color from early spring to frost.
By arranging these plants in a flowerbed just for bulbs, we don't have to worry about the unsightliness of dying daffodil or tulip foliage. Instead, we will plan to have other bulbs coming up to blend in with them or cover them up.
PLAN AND DESIGN
To get the most color from bulbs in the garden, plant in swaths or ribbons. A picket fence or evergreen hedge gives a nice background for a border or make a river of spring bulbs through your yard.
Choose bulbs that will give you a continual bloom or bulbs that will bloom in succession so there are always blossoms. Think about color combinations. Red, orange, yellow, purple, and white make a bold statement, while pink, yellow, white, and lavender offer a softer palate.
SOIL
Bulbs like soil with lots of organic matter and good drainage. To improve drainage, make a raised bed or remove some soil and add lots of compost.
FERTILIZE
A teaspoon of bone meal in the hole before dropping bulb will get bulbs off to a great start. In the spring, top-dress with a 10-10-10 slow-release fertilizer when you see green shoots, then water well to help the fertilizer absorb into the soil. Repeat in the fall.
WHERE TO PLANT
Most bulbs love full sun, but many can take some shade. Several varieties are perfect for a woodland garden. Keep in mind that early-blooming spring bulbs such as tulips will bloom before trees leaf out.
WHEN TO PLANT
Spring flowering bulbs must be planted in fall or early winter — about six weeks before ground freezes — so the bulb has time to develop strong roots and go through a period of cool temperatures needed to flower.
If you live where the ground doesn't freeze you can pre-chill bulbs for 6–10 weeks before planting.
Plant summer bulbs in the spring after all danger of frosts are past.
HOW DEEP TO PLANT
Typically, you'll plant at a depth of three times the diameter of the bulb. Better to plant a little deeper than too shallow. Tall plants such as gladiolus can go a little deeper to help support height.
Use a hand bulb planter or an auger that attaches to a drill.
START YOUR OWN BULB FLOWER BED
This simple flower bed, designed by Cindy Shapton exclusively for Out Here readers, uses bulbs that will bloom from late winter until frost. You can make the bed any size you want; just figure the square foot of each swath or wave and use the number of bulbs per square feet to arrive at the bulb count for each flower.
Daylily, Hemerocallis, zone 3-10, (1 per sq. ft.). Rebloomers. "Italian Ice," "Purple De Oro," "Route Sixty Six," and "Lady Elizabeth." Choices and colors are numerous. Hides spent foliage of tulips and daffodils. Blooms early summer to frost.
Tulip, Tulipa, zone 3-8, (4-5 per sq. ft.). Try a mix of early-, mid-, and late-spring bloomers. Early-blooming: "Single Early," "Double Early," and "Greiggii." Mid-season: "Darwin Hybrids." Mid-to late-season: "Parrot" and "Fringed." Late season: "Lily Flowering," and "Double Late" varieties.
Flowering onion, Allium, zone 3-8, (10 per sq. ft.). Round blooms late spring to early summer. Try a mix of purple, pink, and white.
Asiatic lily, Lilium, zone 3-10, (2-3 per sq. ft.). Early summer blooms keep the color coming after spring bulbs have waned and just before summer bulbs flush. Try "Lollypop," "Brunello," "Ceres Double," or a mix of varieties.
Dwarf Gladiolus, Gladiolus, zone 8-10, (5 per sq. ft.). Grow to 12-36 inches. No need for staking. Adds color all summer when planted every two weeks.
Dahlia, zone 8-10, (1 per sq. ft.). Deciding which varieties is half the fun of planting dahlias. Bloom from mid-summer until frost. The more you cut, the more they bloom.
Grape hyacinth, Muscari, zone 4-9, (10-15 per sq. ft.). Comes in white, blue, pink, yellow, and purple/blue. Scented and spreads nicely. Foliage appears in fall. Blooms early- to mid-spring.
Snow drop, Galanathus, zone 3-8, (10 per sq. ft.). "Elwesii," "Nivalis," "Viridi-apice," and "white dream." Blooms winter to late winter.
Autumn crocus, Colchicum, zone 5-9, (10 per sq. ft.). "Goulimyi," "medius," and "sativus" (saffron). Spreads. Blooms to early fall.
Spring crocus, Chrysanthus, zone 3-9, (10-15 per sq. ft.). "Blue Bird," "vernus," and "Jeanne k'Arc." Blooms late winter, early spring.
Garlic chives, Allium tuberosum, zone 4-8, (1 per sq. ft.). Has a small bulb, but is generally planted by seed or as a plant. Blooms white in mid- to late summer. The grass-like blades hide spent daffodil foliage and shade the snowdrops.
Daffodil, Narcissus, zone 4-8, (4 per sq. ft.). For early to mid-season blooms, most Miniature/dwarf or Trumpet varieties will work. For mid- to late season, try "Large Cupped" and "Double".
Cindy Shapton is a Tennessee master gardener who blogs and speaks on gardening.