Thinking of Volunteering? | Fall 2013 Out Here Magazine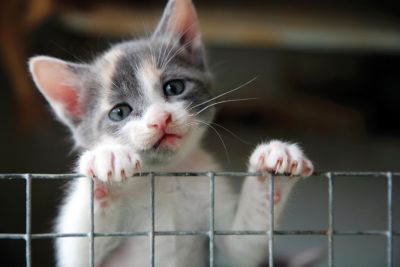 How to help out with an animal rescue

By Jennifer Williams, Ph.D.
Photography by iStock
It is hard to resist the tugging at your heartstrings from adorable puppies, kittens, or neglected horses that inhabit rescues everywhere. Some people can't resist the urge and adopt one of these needy critters.
But what if you want to help homeless animals, yet you can't commit to another permanent four-legged addition to your family? Fortunately, you can help in many ways. Here are a few:
Adopt when you can, and encourage others to do the same. Whenever you are ready to add a new animal of any species to your family, look first at rescues and animal shelters. Purebred dogs and cats wind up in shelters and rescues, and so do small animals such as rabbits, hamsters, and ferrets. If you are looking for a horse, rescue organizations often have horses that are suitable for showing, trail riding, and working.
Foster. If you have the time and space for another animal but don't want a permanent addition, consider fostering. Foster homes help rehabilitate, retrain, and house rescue animals until they're adopted. Some rescues reimburse for at least some of the expenses foster animals incur and many rescues offer training or mentoring for those new to fostering.
Donate. Monetary donations are always helpful, but many rescues accept donated items as well. Food, hay, bedding, medications, and supplements help the rescue's animals while additional donated items can be sold at garage sales or other events to raise funds. Your donations may be tax-deductible if you donate to a 501(c)(3) organization. Ask for a copy of the organization's IRS determination letter and a receipt if you want to write off your donations.
Volunteer on-site. Rescues and shelters that run a farm, kennel, or facility where they house most of their animals need a crew of volunteers. Many of the volunteers clean cages or stalls, feed animals, and clean equipment. Experienced volunteers often get to walk and train dogs, tame and play with feral kittens, or work with horses.
Volunteer off-site. Not all rescues run facilities, but they still need volunteers. These volunteers check out potential adopters, check up on adopted and fostered animals, hang fliers at area stores, and distribute information about the rescue. Some off-site volunteers assist with neglect investigations or help local law enforcement remove neglected animals from their owners.
Volunteer for administrative tasks. If you like to organize, talk on the phone, or perform data entry, most rescues would be happy for your help. There's an enormous amount of work that goes on behind scenes at rescues: phone calls and emails to return, records to keep and file, thank yous and receipt to send, and volunteers to organize. Because few rescues employ paid staff, volunteers handle most of these tasks.
Fundraise. If you have grant writing, event organizing, or fundraising skills or would like to develop those skills, your local rescue wants you. Rescues need people who are willing to speak to local businesses about donating funds or items for upcoming fundraising events, and they also need volunteers to organize events or work the day of the event.
Donate professional services. Rescues can use the services of attorneys to review contracts and other paperwork, accountants to help with bookkeeping, media consultants to help with PR and press releases, etc.
No matter what your skills and experience, a good rescue can help you find your niche. You'll be helping the rescue help more animals, and you'll meet other compassionate animal-lovers while you volunteer.
Give volunteering at a rescue a chance: I bet you'll love it as much as I have.
Jennifer Williams has started two horse rescues and has written a book to help others start successful rescues.