The Silver Rabbit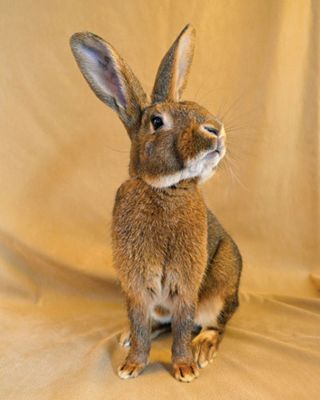 The Silver rabbit, one of the most ancient breeds of domestic rabbit, is now categorized as "Threatened."
Beautiful rare breed's future has a silver lining
By Jeannette Beranger
Photography by Jeannette Beranger
A unique rabbit with beautiful "silvering" from white hairs evenly distributed throughout its coat was once sought after by 19th century Russian royalty and China's elite who wore garments from the luxurious fur.
The Silver rabbit also was popular in the United States during the late 1890s during a period when rabbit-keeping became all the rage. The breed enjoyed popularity into the 20th century; however, as commercial meat and fur production grew, producers chose larger rabbit breeds, rather than the diminutive-sized Silver.
The breed became largely ignored and, as a result, the Silver, one of the most ancient breeds of domestic rabbit, is now categorized as "Threatened" by the American Livestock Breeds Conservancy (ALBC) on its Conservation Priority List. ALBC uses this list to bring attention to livestock and poultry breeds such as the Silver and to connect them with people interested in becoming involved with saving a rare breed.
Jann Hall, of Windsor, Calif., has raised and bred the Silver for 10 years to help remove it from the endangered list. The breed's small size makes it a favorite of hers.
"The adult weight of 4-7 pounds makes it very easy for me to handle the animals and, coupled with a sweet personality, these rabbits are a breeze to manage," she says.
Part of the ALBC's recovery and long-term security plan for endangered breeds involves creating a market for it, so they'll once again be in demand. The Silver's fine bones result in a good meat-to-bone ratio for a small rabbit, meaning one rabbit can make a nice meal for two people, Jann says.
She's also a member of the National Silver Rabbit Club, which was formed in 1925 and continues with a small but dedicated following.
Their work to promote the breed has created a renewed interest in the Silver among rabbit fanciers, which is helping to increase the Silver population. Currently, there are less than 1,000 breeding animals in the United States.
UNKNOWN ORIGIN
The Silver is one of the most ancient breeds of domestic rabbit. Its true origin is not known, but it is likely that a rabbit with silver hairs appeared as a mutant of the European wild rabbit hundreds of years ago.
Over the years they have been known under many names: Millers, Silver Sprigs, Lincoln Silver, Lincolnshire Silver-Grey, and Riche (French for "valuable").
Historians say that the Silver was first found in large numbers in Siam, and that sailors brought them to Portugal where the breed scattered throughout Europe. English explorer Sir Walter Raleigh is said to have introduced the Silver to North Yorkshire, England, where they eventually spread throughout Great Britain.
In 1778, when a fleet of ships left England to colonize Australia, among the livestock were five rabbits that likely were Silvers. Some 50 years later, Silvers were abundant in both Australia and New Zealand. It's unclear when the Silver arrived in the United States.
By all accounts Silvers are easy keepers and good mothers. The doe produces lots of milk that supports average litter sizes of about six to eight kits.
The future of this unique breed truly has a silver lining as their popularity increases. For newcomers to the rabbit fancy or for people interested in keeping small livestock in their home, the Silver is a great choice.
LEARN MORE ABOUT SILVER RABBITS
To learn more about the breed and how to find Silver rabbit breeders visit
American Livestock Breeds Conservancy's site at www.livestockconservancy.org
and the National Silver Rabbit Club's site at silverrabbitclub.com.
Jeannette Beranger is the ALBC's Research & Technical Program Manager.