So You Want to Start a Rescue? | Fall 2013 Out Here Magazine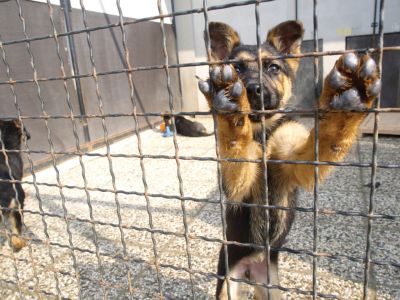 Consider the realities before starting a pet rescue
Rescue is an emotional roller coaster, with the highs of saving an animal and the lows of losing some.
Photography by iStock
Animal lovers are compassionate people, so it's no surprise that we rescue animals. You see a lonely dog on the side of the road or an emaciated horse in a field and decide to save that animal. When you see more animals in need, you end up bringing another critter or two home.
Then one of your friends says, "You love animals and your heart is so big, why don't you open a rescue?"
Before you open your home to needy animals, think about the realities of starting and running a rescue. I love doing this work, but the rescue life isn't easy, and it isn't for everyone. I'm not sure I would have jumped in had I known what I was getting myself into.
Do you have the time?
Rescue work is a 24-hour-a-day, seven-day-a-week commitment. Besides feeding and cleaning up after the animals, those who arrive ill, injured, or abused require extra time to rehabilitate.
You'll also spend time recruiting adopters, managing volunteers, maintaining an Internet presence (through social media and a website), networking with animal shelters and law enforcement, promoting your rescue, and much more. If you want the rescue to be a nonprofit, budget time to complete and submit paperwork to the state and the IRS and to file annual reports.
Do you have the money?
When you first start a rescue, most of the money will come out of your pocket. Besides the costs of food for the animals, you'll need to invest funds in a website, filing the paperwork to become a nonprofit and tax-exempt organization, and advertising.
It takes time to build a donor base that funds your organization, so plan on supporting the rescue for at least a year.
How does your family feel about your plans?
Many people quit rescue work because of the stress it brings to their family. You spend less time with your spouse and children and sacrifice vacations and family dinners to help more animals. You ask your family to assist with caring for the animals and at fundraisers.
Your family's support is critical to the rescue's success, and you'll need their understanding when rescue work is stressful and time-consuming.
Will your paying job accommodate rescue work?
You will need to be available for phone calls during work hours, and you'll need to take off work with little notice at times to help law enforcement or to save an animal from the shelter. If you travel for work, you'll need someone who can handle the rescue when you are away.
Large animal rescue presents many of the same challenges as pet rescue, but finding homes for livestock can be difficult.
Many people enter rescue work thinking that they'll be able to draw a salary and quit their day job, but the reality is that few rescues have the funds to employ people.
Can you handle the emotional upheaval of rescue work?
Combine the excitement of saving an animal with the stress of having to drop everything to fix a rescue problem and the sadness when you can't help an animal, and you've got an emotional roller coaster.
Not everyone can handle having to authorize the euthanasia of an animal, and many people have trouble saying no to incoming animals even though their rescue is full.
Are you willing to give up your privacy?
Your phone rings throughout the day and night, on holidays, and during birthday parties and other special events. Your cell phone will ring during your vacations, date nights with your spouse, and your children's sporting or school events — and if you turn it off, you may miss critical calls.
If you run the rescue out of your home, you'll be opening your doors to volunteers and adopters — and in some cases, state officials who inspect rescue facilities. Furthermore, as the head of a rescue, you'll become a public persona, which means the things you say on social media and in public will be scrutinized.
Are you willing to learn new things?
When you run a rescue, you'll need to learn about fundraising, volunteer recruitment and management, donor development, public relations, neglect and abuse investigations, data entry and records management, web page design and maintenance, and much more.
Plan to attend workshops and reading books about nonprofit management.
What is your motivation?
Starting a rescue to fill an unmet need in your community is a wonderful way to make a difference. However, if you want to start a rescue to be in charge, because you don't like the local organizations, or because you want to quit your day job, starting your own rescue might not be the best choice.
Even if starting a rescue isn't for you, consider getting involved with your local rescue or animal shelter. There's plenty of work to be done, and good rescues always appreciate new volunteers. You'll meet some great people and amazing animals.
Jennifer Williams has started two horse rescues and has written a book to help others start successful rescues.