Saving Flower Seeds | Fall 2013 Out Here Magazine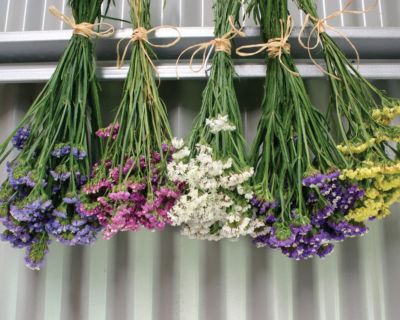 The easiest way to save your seeds is to cut the stems, tie them into small bouquets, and hang them upside-down to dry.
Collecting and storing is easier than you might think

By Rita Randolph
Photography by iStock
As fall approaches, many of our perennials and annuals have developed fruit or seed heads. Atop each spent flower spike is usually a nice seed head containing plenty of seeds, usually enough to grow a nice crop of flowers for next year.
Collecting and saving that seed is a lot easier than you might think.
Annual and perennial flowers such as black-eyed Susans, cockscomb, zinnias, hollyhocks, cleome, and poppy seeds easily can be harvested and dried for later use.
The easiest way to save your seeds is to cut the stems and tie them into small bouquets to dry. Hang them upside-down in a dry place, such as your kitchen window or a utility room. If you have room on a shelf somewhere, you can even lay some pods or flower heads in a cardboard box. Another option is to simply let them dry on a windowsill.
In a couple of weeks after all moisture is gone, place the stems, seed heads, or pods in a small paper bag, keeping them separated by variety. Be sure to write the name of each variety on the bag.
Many seed boxes are available for organizing your collections, but if you don't want to get that fancy, or spend the money, simply leave your seeds in paper bags in a cool, dry place for the winter, such as a closet or cabinet somewhere in your home where humidity is low.
seeds separated from the chaff
After drying, seeds can be separated from the chaff by gently rubbing between your fingers.
You can store them in the refrigerator, if you have room, but never freeze them. Many seeds will remain viable for a year or two even if you don't refrigerate them.
To clean your seeds for later use, carefully remove them from the bags one variety at a time, so you don't mix them up, and place on a large sheet of paper or smooth cardboard. Watch for any seeds than may have separated and fallen to the bottom of your bag.
Gently rub the seed heads between your fingers, separating the seeds from the chaff, stems, and old flower heads. Removing them from this debris will cut down on any unnecessary decaying matter when you sow them.
Once you've separated out the seeds, gently tilt the paper or cardboard to let the seeds run down to one end, where you can collect them and store in a small envelope or plastic storage bag.
Next spring, you can sow your seeds either indoors or outdoors, watch them germinate, and enjoy your free plants.
Rita Randolph is a nationally known lecturer, garden writer, and local TV host who owns Rita's Rare Plants, a mail order company in Jackson, Tenn.