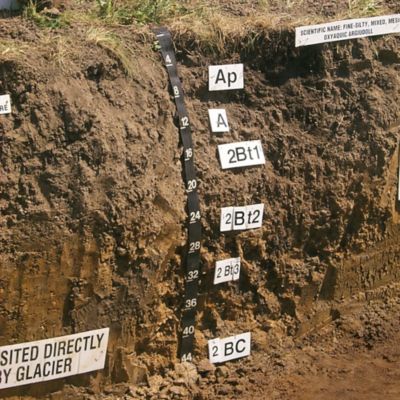 Part of taking care of the soil involves understanding the different levels that lie beneath the topsoil.
Nurturing the Soil | Fall 2013 Out Here Magazine
No-till method keeps valuable nutrients where they belong — in the topsoil
By Noble Sprayberry
Photography courtesy of the Natural Resources Conservation Service
Preserving the legacy of the Rulon family's farmland — productive and profitable for generations — meant turning away from a practice once as common to agriculture as tractors and seeds: tilling the soil.
On the 6,000 acres of corn and soybeans outside Arcadia, Ind., the family, owners of Rulon Enterprises, focus on strategies to promote soil health, joining a trend gaining pace over the past decade.
Limiting disruption of the soil and strategically planting cover crops provide the foundation for the system, a profound change from traditional farming techniques.
Rodney Rulon believes few choices exist for anyone who wants to have long-term healthy soils.
"The reality for us, and I think for most farmers, is that we're trying to be good stewards for the land and resources," he says. "That's how we support our families, and we hope the land will be there to support the next generation."
The approach of no-till farming contrasts with traditional methods. For example, until the 1950s, the top 10-12 inches of a field was turned, plowed, and disked multiple times in preparation for planting.
"You would just bury that old stuff, which was largely done for weed control," Rulon says.
Over time, though, farmers realized this practice promoted problems, such as erosion and loss of topsoil. When soil is turned, organic matter in the topsoil is exposed to the atmosphere and destroyed, so it no longer can retain water, slowly release vital nutrients, and help soil to clump into small clods for healthy roots. What's left is very compacted soil that's less nutritious and less beneficial to growing plants.
In the 1960s and 1970s, many farmers switched to the use of a chisel plow, which lifted and shaped the soil rather than turning it over completely.

The Rulon family (from left), Dianna, Clair, Tasha, Kaleb, and Rodney, is keeping their soil healthy and profitable for future generations.
"That is the standard system a lot of guys today are still using," Rulon says. "We did that for a long time. I consider that a transitional system stuck somewhere between the old, traditional plow system, and the benefits of that, and the new soil health system."
Interest in no-till farming grew in the 1990s as fuel costs shot up and farmers looked for ways to reduce expenses: Less equipment. Less fuel. Fewer passes of equipment over the field.
"We were looking at cutting cost and labor just to be competitive, and to make money," Rulon says. "No-till fit the bill."
"After we went to no-till, we started paying attention to what was going on in the soil. We were moving to a more natural system, but not organic or anything like that," he says. "We were just trying to get a system that was economically sustainable for us, and we started seeing all of these benefits. The soil biology became more active, there was more recycling of the nutrients, and the soil held together better."
'I LOVE EARTHWORMS'
The Rulons apply the same pattern each year, beginning in the fall after the final harvest. For instance, as soon as soybeans come off the land, a cover crop, such as oats, daikon radish, or Austrian winter peas goes in.
"You want to keep the ground covered with something growing throughout the year," Rulon says. "We want to foster the biology, such as earthworms. I love earthworms, because they do the tilling for us."
The cover crop remains throughout the winter, slowly feeding nutrients back into the soil.
"Come spring, depending on the cover, we might have to spray it to kill it but some cover crops might die naturally," he says. "Then, it's time to plant."
The first 2 inches of soil is an organic layer, followed by topsoil, subsoil, and partially altered parent rock material.
Rather than turning the top layer of soil, just enough is moved to allow seed planting.
"The seed still gets down to the nice, loose soil, because the roots of the cover crop have loosened it. It's a nice seed bed, and we let the cover crop do the work for us," Rulon explains.
Switching to a soil-friendly planting system does not require all new gear, but the farmer must adjust planting equipment to allow for variables such as soil type and soil moisture. Each setup is unique. Changes might include adding a new disc to break ground in a different way or
"You're trying to do all of your planting operations in one task," Rulon says. "So, it's quite a bit more complicated of a planter setup."
Taking a look at the soil itself explains the benefits of the Rulons' approach. Besides helping earthworms to flourish, leaving the soil in place nurtures beneficial insects such as ladybugs and spiders, which destroy harmful insects. The ratio can be as many as 3,000 beneficial insects to one detrimental insect, which reduces the need for broad-spectrum insecticides, Rulon says.
"For centuries and centuries, people have known that healthy soil makes healthy food, which makes healthy people and animals," Rulon says.
Lower costs, healthier soil, and competitive crop yields make the system ideal for the family business, and Rulon believes other farmers will follow.
Poorly managed farmland can decline quickly, which has occurred in other countries. And with the world population growing, Rulon says, soil is a resource too valuable to risk.
Noble Sprayberry, a frequent Out Here contributor, is a Georgia-based writer.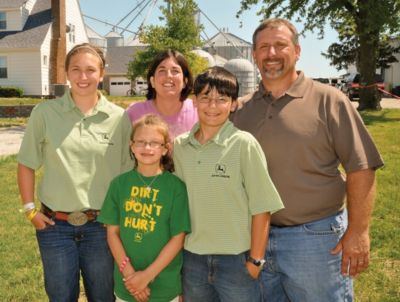 The Rulon family (from left), Dianna, Clair, Tasha, Kaleb, and Rodney, is keeping their soil healthy and profitable for future generations.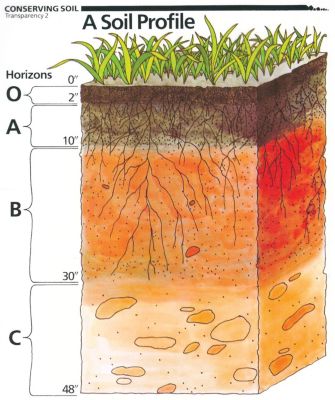 The first 2 inches of soil is an organic layer, followed by topsoil, subsoil, and partially altered parent rock material.