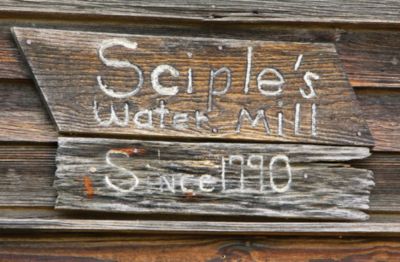 Sciple's Water Mill has been all in the family for nearly 200 years
By Nancy Dorman-Hickson
Photography by Meg McKinney
The honor box says a lot about Sciple's Water Mill in De Kalb, Miss. Attached to a stand that's filled with the mill's stone-ground whole-wheat flour, fish fry mix, grits, and meal, the honor box means visitors won't leave empty-handed even if the mill is closed.
"Most people are honest," says Eddie Sciple, the mill's operator and owner. "Usually if meal is gone, there is money or an I.O.U. in the box."
People have been coming to the mill for more than 200 years, and the Sciple family has owned it for most of those years.
"Our family bought the mill around 1830 or 1840. I'm the fifth-generation Sciple," Eddie says. Edward, his father, retired three years ago. Eddie's daughters, Anna and Andrea, work in the mill occasionally. At 4, Anna's son Seth already has declared his intentions to be mill operator someday.
An American flag provides color amid the weathered gray siding and rusted tin roof of Kemper County's oldest business. The mill juts over a pond constantly fed by Running Tiger Creek.
"The water starts boiling out of the ground about two miles from here," says Eddie.
Two stone steps and the original mill door offer entry. Antique tools hang overhead while walls feature letters, a Roy Acuff postcard, and an autographed photo of Mike Rowe from Dirty Jobs, a former television series about particularly messy occupations, which filmed an episode here.
The mill's huge grinding stones are housed in a wooden encasement.
"The bottom one weighs 2,100 pounds and the top one, 1,600," Eddie says. He tosses in a half of a bushel of corn and pulls a lever, unleashing water that powers a water wheel. Within seconds, the stones render kernels into finely powdered meal.
A Dr. Hunnelly from South Carolina first built the mill in 1790. Two families owned it next before George Sciple, Edward's great-great grandfather, began running the place for Rose McManis, a Michigan woman. She sold it to George, followed by John, Jerry, George (again), Edward, and, most recently, Eddie Sciple.
The long-running mill is now open to the public only on Saturdays, because Eddie works weekdays as an East Mississippi Community College instructor.
The stone-ground products engender loyalty seldom seen for steel-rolled products sold in supermarkets. "Our meal is real smooth and round where theirs is jagged," Eddie says.
Knowing how much space to leave between the bottom and top grinding stones determines the product's texture.
"You can make it fine or coarse, according to how far apart your rocks are," Eddie explains. No additives make the mill's products highly sought by those with celiac disease and gluten allergies. (The fish fry includes added seasonings.)
"We keep a list on the wall of the first farmer that brings the first batch of corn or wheat each year," Eddie says. As payment for the grinding, Eddie says, the Sciples "toll" one-eighth of the farmer's total raw product, "the same amount that they took in 1790."
a broad view of the mill
Sciple's Water Mill, powered by the waters of Running Tiger Creek, has ground corn and wheat for grits, cornmeal, whole wheat, and fish-fry products since 1790.
Millwork isn't going to make anyone rich, Eddie concedes. "There's got to be a love for it or you wouldn't be doing it. It's a lot of upkeep and a lot of late hours."
Still, he says, "it's like it gets in your blood."
HOW THE GRISTMILL WORKS
Pond water fuels the mill's turbine water wheel, which powers the grinding stones.
"The wheel is like a bathtub stopper," says Eddie. "When I pull a lever inside, that opens these floodgates and lets the water into each of the wheel's little 'fingers,' which turns the turbine."
A dam and floodgates regulate the water. "But if it rains hard and you don't open the gates, your dam or even your mill will wash away," says Eddie.
So he constantly watches the weather. To alert him at his nearby house, he rigged a light activated by rising water.
"It might be lightning and raining, it might be 1 in the morning," he says. Whatever comes, he tries to be ready to beat Mother Nature.
WATER MILL OPRY
The Water Mill Opera Band performs for 3½ hours every Saturday night in the old country store across from the mill. Each week, some 25 to 100 people pay $5 each, many carrying potluck offerings. Gospel favorites such as The Old Rugged Cross and Peace in the Valley start the evening. Hank Williams, Johnny Cash, and Merle Haggard standards finish out the night.
Edward Sciple is the main singer and guitar player. "Mama used to blow the harp and play guitar and I learned three chords from her," he says. "Other than that, I just picked it up and went."
Eddie, plays drums and sings, his sister, Ruby, plays keyboard and sings, and friends fill in the rest of the band for their audience's listening or dancing pleasure.
No alcohol, smoking, or profanity is allowed at the Opry. "We don't want," Eddie says, "a honkytonk."
WANT TO GO?
Sciple's Water Mill is located at 525 Sciple's Mill Road in De Kalb, Miss.
For information, call 601-416-2860 or 601-743-5870.
Nancy Dorman-Hickson is a Birmingham, Ala., writer.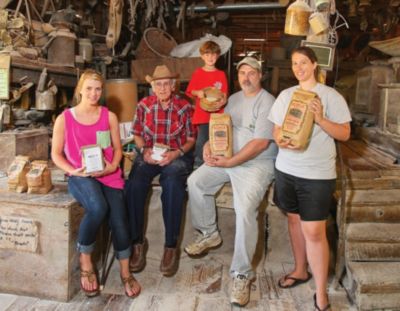 Four generations of the Sciple family are represented by (from left) Andrea Sciple, Edward Sciple, Seth Holmes, Eddie Sciple, and Anna Sciple.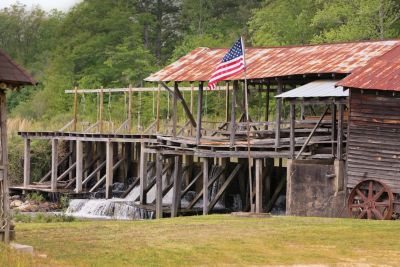 Sciple's Water Mill, powered by the waters of Running Tiger Creek, has ground corn and wheat for grits, cornmeal, whole wheat, and fish-fry products since 1790.