Egg Nutrition | Fall 2013 Out Here Magazine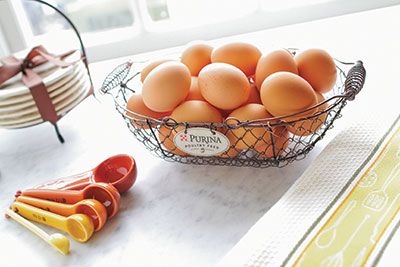 When it comes to egg quality, it all depends on the hen and her diet

By Mikelle Roeder
Photography courtesy of Purina
Consider the egg. Maligned for decades for its cholesterol and saturated fat content, the egg is experiencing a redemption as further research confirms it as one of the most high-powered nuggets of natural nutrition on the planet.
Indeed, the egg scores the highest of all proteins and is the gold standard against which all other proteins are measured, which is fortunate, given the growing popularity of backyard chickens and raising hens for egg production.
Still, the egg can be made even more perfect by improving what the hen eats. Hens fed vitamin D have a larger concentration of it in their eggs.
Hens fed such things as ground flaxseed and algae meal will produce eggs with much higher levels of particular omega-3 fatty acids.
Omega-3 fatty acids have been shown to reduce inflammation and may help with chronic diseases, such as heart disease and arthritis, according to the U.S. National Library of Medicine and National Institutes of Health.
This is important to know for people raising backyard hens for eggs. If you feed them a poor diet of unfortified scratch grains and table scraps, not only will the nutrition of the egg suffer, but the hen's production likely will decrease, and her eggshells will be thinner, causing increased breakage and waste.
Many people remember their grandparents feeding chickens this way, but we now know much more about nutrition of both chickens and humans than we did back then, and your grandparents' chickens probably had much larger areas in which to roam and forage for insects, grubs, and various forbs.
Your grandparents also may not have used supplemental light to keep their hens laying through the winter, when there are no bugs or weeds to consume.
Scientists have worked to determine the nutritional requirements of chickens and to develop poultry feeds that meet those requirements.
That means if you provide your hens with the right kind of nutrition, you'll have plenty of the best kind of eggs.
Dr. Mikelle Roeder is a nutritionist for Purina Animal Nutrition LLC.
IT'S THE CHICKEN AND THE EGG™ POULTRY FEED
Give your hens a properly designed, high-quality feed so they provide you with high quality eggs by feeding Purina® Layena® Plus Omega-3.
It's formulated to result in high Omega-3 in the egg and has a natural vegetarian formula with added vitamins, minerals, and trace nutrients without added antibiotics or hormones.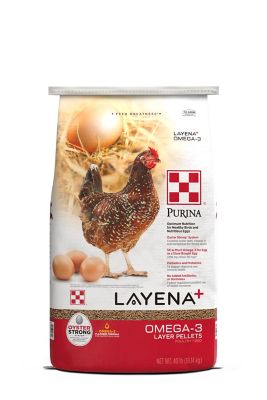 Like all Purina® SunFresh™ Recipe Poultry Feeds, Layena® Plus Omega-3 contains marigold extract for rich golden yolks, key levels of calcium and manganese for strong shells, and an optimized level of vitamin E to support a healthy immune system.