Back to the Beginning | Fall 2013 Out Here Magazine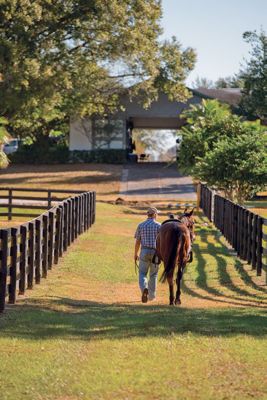 As the Rural Revolution has drawn Americans back to country living, Tractor Supply has become a trusted advisor.
Tractor Supply finds its future in its roots
After some turbulent business times during the 1960s and 70s, followed by rebuilding in the 1980s, Tractor Supply Co.'s leadership began steering the company back in the direction of founder Charles Schmidt's original vision.
This excerpt from Work Hard, Have Fun, Make Money: The Tractor Supply Story, shows just how perceptive those leaders were, to create the Tractor Supply you know today:
Just as Tractor Supply had welcomed the '90s by returning to its roots — reverting to its original name and re-staking its original claim as America's farm and ranch store — to newfound success, Americans, too, were returning to the land.
For the first time in decades, the number of rural routes was on the rise. A new hardworking breed of Americans was escaping the cities back to their rural roots. More and more baby boomers were finding refuge in the rural lifestyle as they retired. Having a little (live)stock on hand was viewed by some as much a sign of success in life as taking stock in the market.
Where the turn of the last century was greeted with the Industrial Revolution that drew America to the city, what some now called the Rural Revolution was returning us to the land as the new millennium approached.
By 1999, farms generating less than $10,000 in annual income represented half of the farms in the United States. Hobby, recreational or part-time farmers — whatever you preferred to call them — were a significant force in the marketplace, spending more than $5.5 billion annually on farm supplies and representing the only farm income segment that is growing …
Tractor Supply, with its renewed emphasis on mission, legendary service, seasoned advice, and quality products, stood uniquely poised to help customers not only select the right tools, but also provide the guidance on how to use them properly. They were moving beyond simple purveyors of product to becoming trusted advisors and the enablers of a lifestyle.
They were cultivating new relationships with the people, becoming a lifestyle brand for the growing number of Americans who were embracing a life tied to a piece of land.
There's the letter carrier who moved out of the city to enroll his children in 4-H and raise chickens, rabbits, hogs, and quail on less than 3 acres. There's the man who just had to raise rabbits and was forced to flee the city to pursue his passion of raising hares and their heirs. There are family after family drawn to the country because of a child's love of horses.
They could be a homeowner who has only a third of an acre in small-town America. It could be somebody who has 5 to 10,000 acres in production for corn or soybeans in Iowa. It could be a 500-acre cattle ranch in Texas.
Or it could be somebody in Tennessee or Kentucky with 10 acres and a couple of horses in the back yard.
In every case, these people have an emotional connection to the land. They also have a self-reliant and independent spirit. And there's no customer more loyal than a self-reliant one once he learns he can rely on you through thick and thin, once you've developed a relationship and earned his trust.