Sweet Potatotes | Summer 2012 Out Here Magazine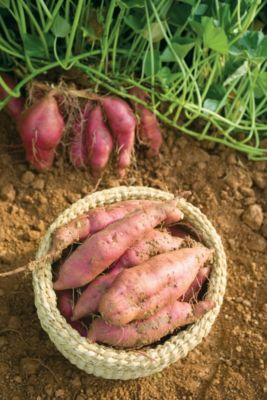 By Peter V. Fossel
Photography by Corbis Images
The sweet potato is a Native American treat, and ought to be a staple in our diets but isn't much anymore, and I don't know why. It's widely considered to be the most nutritious vegetable in the world and it tastes good.
WHAT'S NOT TO LOVE HERE?
Growing them is simplicity itself. They come as bare-rooted "slips," and prefer well-drained sandy loam, but will do well in any loose soil that drains well. Too-sandy soil produces long, thin tubers, and clay soil produces clunky-looking things, but the taste is the same. I plant the slips in raised beds, made by simply raking up soil into raised rows (to assure good warmth and drainage) planting the slips 12-18 inches apart in rows about 3 feet apart — or closer if the soil is rich. Sweet potatoes love organically-rich soil, but hold back on nitrogen-rich fertilizer; that will produce only lush leaf growth, and not many tubers.
Plant the slips up to the top leaves, and keep the soil moist until roots are established. Planting them in small hills is not required, as it is with regular potatoes. Simply wait about three or four months, then work your fingers into the dirt to see what you find. It's more fun than looking under a Christmas tree.
5 SWEET POTATO FACTS
It's not a potato.
It's not a yam; they are from entirely different families.
They are easy to grow even in short-season areas.
Their foliage is quite decorative.
They are widely considered to be the most nutritious vegetable in the world.
The plants do love warm soil, and are extremely frost-sensitive, so I let the soil warm for two weeks after last frost, then mulch between rows with vegetative matter, which not only breaks down to feed the soil, but keeps everything nice and moist. Provide about an inch of water a week. Overwatering causes plants to rot.
Once planted, nothing else is required. Oh, if a vine starts growing into the next county, gently bring it home so its leaves feed the main crop and don't take root elsewhere.
Harvest as soon as the leaves start yellowing. Cure the tubers in the sun for several hours, then to a warm, ventilated indoor area for two weeks. They can be left in a cooler spot after that, to last for months.
Peter V. Fossel is a longtime farmer and author of Organic Farming: Everything You Need to Know.