Nolan Ryan, Cattle Rancher | Summer 2012 Out Here Magazine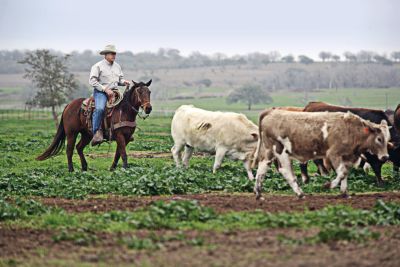 Even though baseball demands attention - Ryan is part-owner of the Texas Rangers - he remains very hands-on in his beef business.
By Noble Sprayberry
Photography by Nolan Ryan
A 27-year baseball career. A spot in his sport's hall of fame. More no-hitters and strike-outs than any other professional pitcher. An owner and CEO of the Texas Rangers. But, what does Nolan Ryan tell people who ask him what he considers an ideal day? Well, it's not an afternoon at the ballpark.
"I'd be in the cow pens working cattle," he says. "And the person who asks usually looks at you as if you have spinach or something in your teeth. But, that's what I enjoy doing, and I'm going to do it as long as I can. "
For Ryan, though, it all begins with baseball, a sport that provided him the money to invest and grow a business built atop his second passion.
Nolan Ryan's All-Natural Beef puts meat in grocery stores and restaurants, adding a retail business to a ranching operation spread across sites totaling 20,000 acres in southern and central Texas.
"My ability to throw a baseball was a God-given gift. When I finally realized that, I dedicated myself to being the best baseball player I could possibly be," Ryan says. "And, baseball afforded me the opportunity to pursue my other passion."
Ryan, 65, has juggled an interest in cattle with sports since he was a boy, the youngest of six children, growing up in Alvin, Texas.
Cattle first caught his eye as a 5-year-old. "That was when I remember wanting to be a rancher," he says. "When I was still a kid, I'd buy day-old dairy calves and raise 'em on a bottle. When I got 'em up to about 400 or 450 pounds, I'd sell them and buy a heifer calf to raise and breed."
By seventh grade, though, he faced a decision. "I wanted to play sports, so I sold the cattle I had," he says. "But, I thought that someday I would get back into it, and baseball afforded me that opportunity."
His sports career eventually took him to the New York Mets, the California Angels, the Houston Astros, and, finally, the Texas Rangers. And in the early 1970s, while playing with the Angels, he bought a set of heifers in Texas. And, he began growing his herd in earnest once he returned to the Lone Star State as a player.
The challenge of raising cattle provided a counter weight to baseball. "It was very beneficial because it gave you something to occupy your time and mind," he says. "To me, that made a big difference, and I was very hands on."
Even though Ryan pitched into his 40s — he threw his final no-hitter in 1991 at age 44 — he knew the run would end. "I always had the mindset that there was life after baseball, " he says, "and I needed to ensure that I didn't lose sight of that. "
While he grew a beef business, baseball never really left. In 2008, he was named president of the Texas Rangers. In 2010, he joined the team's ownership group and he now serves as president and CEO.
"When people ask about me retiring as a baseball player, I say that I didn't retire," Ryan says. "I just changed jobs, and the new one sure didn't pay as well."
Nolan Ryan's All-Natural Beef puts meat in grocery stores and restaurants, adding a retail business to a ranching operation spread across sites totaling 20,000 acres in southern and central Texas.
COMPLETELY INVESTED
Even though baseball demands attention, Ryan remains involved as always in the 10-employee cattle and beef business. He tracks details such as weather patterns, growth of feed crops, and the cattle markets. He makes the key decisions, such as recently reducing his herd at a time when it made more business sense to sell animals instead of feed them.
"At one time, I was running 2,000 mama cows, but I'm down to about half of that right now due to the drought in Texas and the Southwest," he says. "But, we have the intent to build back up.
"That's the side of business that's so frustrating because you have so little control. Once you've experienced a drought, you understand the magnitude of it and the impact it has on you."
When it comes to the close-knit cattle industry, newcomers must earn their spurs, and Ryan says that early on folks likely had questions about the All-Star's commitment.
"I think people look at a ballplayer who buys a piece of property or a ranch, and they think he's a hobbyist, and that this will run its course," he says. "I think that's how a lot of people viewed me, but, obviously, I got very involved. I joined different associations. I did what I could do to contribute."
Last year, in Lubbock, Texas, Ryan added one more award to his resume when the Ranching Heritage Association gave him its Golden Spur Award for lifetime achievement in the industry. Much of that success built on lessons learned from baseball: building a team of professionals and letting them do what they do best.
And, another expected belief guides Ryan, known for his toughness and professionalism. He often quotes a friend's favorite saying: "You know, the harder I work the luckier I get."
Says Ryan: "There's a lot of truth to that."
Georgia-based writer Noble Sprayberry is a frequent contributor to Out Here.