5 Steps To Your Best Pasture | Summer 2012 Out Here Magazine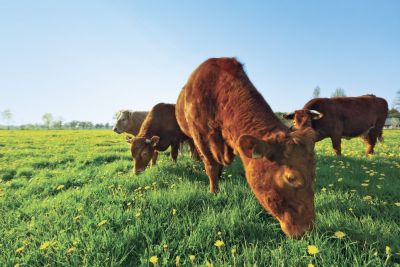 Every extra day that you can keep your livestock grazing on pasture, rather than eating expensive feed, will save money.
Save money by extending the grazing life of your fields
By Noble Sprayberry
Photography by iStock
A healthy pasture offers one way to offset the rising cost of fuel, feed, and fertilizer, allowing animals to graze as long as possible throughout the year. On many farms, grazing lasts only about 225 days annually. But an Arkansas Cooperative Extension Service program targets 300 days of grazing and offers recipes for success.
"We have a set of recommendations; it's a cookbook-style project," says John Jennings, a University of Arkansas agriculture professor and an extension service forage specialist.
With the cost of growing and harvesting one bale of hay topping $26, every extra day that livestock graze, rather than eat pricey feed, saves money. "In this program, we've had over 100 demonstrations on farms in the state," Jennings says of the project that started in 2008. "The direct savings to producers, versus feeding hay, has been over $200,000. It's been significant." While the program focuses on Arkansas' growing seasons and plant varieties, the fundamentals apply to farms throughout much of the nation, Jennings says.
INVENTORY THE LAND
Creating an inventory of the existing forage on a farm is the first step. "If it's all cool-season forage, for example, we know there are some strengths and weaknesses we have to work on. Based on that, we determine what management practices can increase the seasonal grazing from that forage base." Often, a farmer might have the proper forage but management practices fail to take full advantage.
"They may just not manage for a long grazing season," Jennings says. "A lot of the time, if we can get them to add a couple of practices to what they're already doing, they can make their existing forage base work."
As the inventory develops, the land manager can identify seasonal gaps in the forage and plan solutions. Also, adjusting to variances in weather patterns or changes in herd size becomes easier with a solid inventory and a deeper understanding of the forage.
STOCKPILE FORAGES
Good management can build stockpiles of forage, extending the growing season. While the type of forage and the timing may vary from region to region nationally, the basic strategy applies. In Arkansas, an example is bermudagrass, which normally grows from early May to mid- to late-September, but good management extends the season. Clip or graze the grass short by early August, and then apply about 50 pounds of nitrogen fertilizer per acre.
"This gets bermudagrass to grow more in the late summer than we usually would, and we can let that grass accumulate all the way through September and into October," Jennings says.
Animals can often graze this stockpile until late December, reducing reliance and expense of growing, harvesting, and feeding hay.
USE ROTATIONAL GRAZING
Controlling when and what animals graze also become key. When managing stockpiled forage, a one-strand electric fence can keep animals away from the stockpiles, protecting the often nutrition-rich grasses until needed. Subdivide the pasture so livestock consume the forage more uniformly. This strategy allows the forage some rest so it can regrow.
The same concept applies throughout the year, because animals such as cattle will always eat the tastiest forage first, which can reduce a pasture's overall health. "If you just turn them out into a large pasture, they'll pick the good forage, and the forage they didn't eat grows (and) becomes more mature and less palatable," Jennings says. "After three days, the part they grazed the first time starts to regrow and they go back, which weakens that spot. That promotes weeds and lowers the quality of the pasture as a whole."
Instead, subdivide the pasture so livestock consume the forage more uniformly. This strategy allows the forage some rest so it can regrow. "This way, we get more total production, and we can maintain forages such as clover that may not be as grazing-tolerant," Jennings says.
ADD LEGUMES
Clover, alfalfa, and other legumes, while often not as tolerant of grazing as some grasses, offer a valuable addition to pastures. Legumes are a high-quality feed, which can improve the weight and health of livestock. Introducing legumes into a well-managed pasture also creates other benefits. "If we can have 25 percent of the pasture in legumes, we can get good nitrogen fixation," Jennings says. "As cattle eat that forage, the nitrogen cycles back into the pasture and that improves overall pasture growth."
PLANT SEASONAL ANNUALS
While plants such as bermudagrass appear every summer, they do die back in the winter. Similarly, other perennials may provide some forage during the winter before the weather warms. Adding annuals, which live for only one growing season, offers a complementary forage to fill in any gaps. For example, in Arkansas, adding rye grass to a bermudagrass pasture offers an advantage. "It grows when the bermudagrass is dormant, so we get some fall grazing and spring grazing when the bermuda is not growing," Jennings says.
Options don't stop with adding winter or summer annuals, and the program has shown good results with brassica, such as turnips, radishes, and kale, Jennings says. Planted at the first of September, and with the help of just a little rain, these plants have produced as much as 3,000 pounds of dry matter per acre.
Georgia writer Noble Sprayberry is a frequent contributor to Out Here.