Garden Seed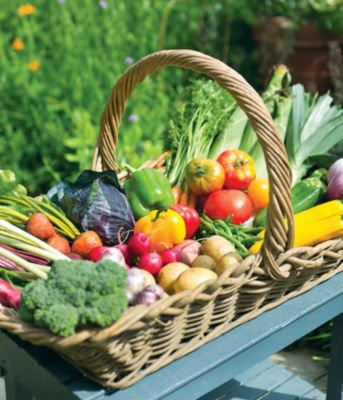 Beautiful photography of abundant garden vegetables can easily sway you to buy more garden seed than you need. Instead, think about how much seed you really need.
By Rita Randolph
Photography by iStock
Winter reading for gardeners is usually a stack of plant catalogs with numerous seed selections that we can turn into a new spring garden. They'll be arriving in the mail in the next few weeks, inviting you to sit back on a chilly day and dream of the garden you'll plant next spring.
Tempting as it might be to buy two of everything, or to take advantage of bulk discounts, think about how much seed you really need for your own use. Without doing a little figuring, you may buy — and spend — too much and have leftover seed that will sit around until next year and may, or may not, be viable by then. Or you may buy too much and, in the zeal of spring planting, create a vegetable garden that becomes too large to manage well.
Seed companies provide several sizes ranging from the smallest "Sample Packets" to larger amounts by seed count or weight. A family of two or four can usually get by with sample packets containing 15 to 25 seeds — on average — for most items such as tomatoes, peppers, and eggplants. Sample packets are the least expensive, and provide just enough plants for a season.
Seed packets for lettuces and greens, which are some of the easiest crops to grow, usually contain 500 seeds, or enough for about a 10-foot row, depending on if you sow them thick or thin. Leaf varieties can be sown a little thick, while head types must be thinned to allow room for each head to develop.
If you have a large family, or you plan on canning and freezing goods from your garden, then a couple of seed packets of a particular vegetable may be necessary. A family of six wanting a plot of corn, tomatoes, and beans might want to put in several rows of vegetables, but getting the right amount is crucial. Planting too thick or crowding seedlings produces a weaker crop, so read the growing information in your catalog for each variety you choose to determine seed count and planting recommendations.
Getting the right amount of seed will require you to do a little math. For example, corn should be planted at least four rows wide for ample pollination. It should be planted 6 to 7 inches apart, in rows 30-36 inches apart from each other.
It's recommended that you plant three or four seeds per hole, so with some multiplication, we can say that a 12x20 plot would require an average of 250 seeds. A packet usually contains one ounce or around 150 seeds so two packets would be plenty in this case. If you want a significantly larger corn patch, however, bulk sizes of corn seed contain a quarter pound, or 1,000 seeds.
In deciding how much seed to buy, don't forget to figure in some losses — birds, bugs, weather, rabbits, voles, deer — and purchase accordingly.
Rita Randolph owns Randolph's Greenhouses in Jackson, Tenn.