Favorite Family Recipes | Winter 2011 Out Here Magazine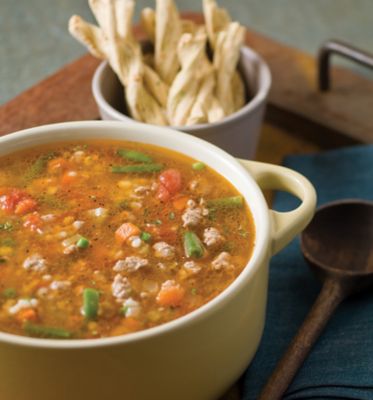 Big Daddy's Barley and Vegetable Soup
The best recipes are those passed along as family favorites
Photography by Mark Mosrie
Food styling by Whitney Kemp
There's something about frigid temperatures that makes soups and stews so inviting. Maybe it's because they warm you up while they're filling you up.
These recipes from Out Here readers will definitely taste good and comforting on a cold, wintry day.
BIG DADDY'S BARLEY AND VEGETABLE SOUP
Submitted by Telina Texann Holland, Lafayette, Tenn.
Telina Texann Holland, of Lafayette, Tenn., now realizes that her father tossed barley into this healthy vegetable soup recipe to make it even better. "Barley is good for your body and he snuck that in when I was younger to be healthier," she says. "I think his mama gave it to him like that, too. It's a family thing.
BUTTERNUT SQUASH SOUP
Submitted by Kelly Jo Klimkewicz, Jeromesville, Ohio.
"This is a very tasty recipe that soothes the fall and winter blues," writes Kelly Jo. "It's a big hit at my fall birthday parties."
AUTUMN CHOWDER
Submitted by Carla J. Sommer, Aberdeen, S.D.
Carla and her family loves this tasty chowder at holidays and get-togethers. "Hopefully you and your readers will enjoy them also. Enjoy!" she writes.
WHITE CHILI
Submitted by Rena Burnette, Chatsworth, Ga.
"This is an all-time favorite at our house and at gatherings," says Rena. "Every time I serve it, people ask if it is easy to prepare and what is in it. They cannot believe it contains salsa."
MY FAVORITE CORNBREAD
Submitted by Maryellen Gingerich, Jonesville, Va.
Maryellen is just 13, but she enjoys cooking and baking for her family. "This is our favorite cornbread recipe and I like making it, as it is very easy to do," she writes. "It's very good if served with butter while hot."
SEND US YOUR RECIPES
If we publish it, you'll get a
$50 Tractor Supply Gift Card!
Email to:
OutHere@TractorSupply.com
Or you can mail it to:
Recipes, Out Here Magazine
P.O. Box 7005
Brentwood, TN 37024-7005
Please include:
Name
Mailing address
Telephone number
By submitting your recipe, you are granting Tractor Supply permission to reproduce it for editorial, promotional, or marketing purposes.