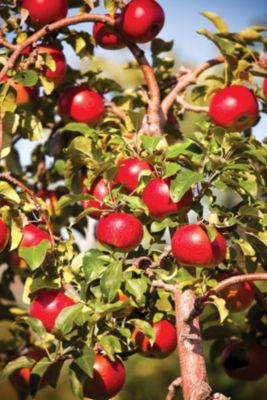 Fruitful Harvest | Spring 2011 Out Here Magazine
Plant your own orchard for the best, fresh-picked fruit
By Noble Sprayberry
Illustration by Tom Milner
Photography by iStock
A crunchy bite into an apple off one of Dale Watson's more than 4,000 fruit trees often brings a wistful reaction. "I would be rich if I had a dime for every time someone has said, 'I haven't had an apple that tasted like that since I was kid,'" he says.
Watson's orchard just outside Bellevue, Neb., where he operates Trees, Shrubs and More, reintroduces visitors to the flavors and aromas of fresh-picked fruit. "It doesn't taste anything like something you bought in the store," he says. "It tastes way better, because there's nothing better than picking an apple that's tree-ripened."
A 33-year veteran of the nursery business, he planted apple trees two years ago to give potential customers another reason to visit. The lessons he learned apply to any fruit tree-lover wishing to grow from two or three trees to two or three thousand.
Pruning a fruit tree to have an open center allows more sunlight and air among the branches, which in turn improves fruit color, size, and taster.
THE RIGHT VARIETY
The first step to a bumper fruit crop begins with making the proper tree choice, because one type of tree might thrive in one location but fail miserably if moved to a warmer or cooler region. "You need to know what you can be successful with, because you don't want to set yourself up for failure," he says.
Many apple varieties thrive in cool climates and peaches typically do well in more temperate areas, for example. While making the right choice is critical for commercial orchards dependent on high-yield results, a home orchard does offer the possibility for greater experimentation.
Making an informed decision is the key, Watson says. A chat with an agriculture extension agent followed by a visit to a local orchard or plant nursery will answer most questions.
"Just walk around your local orchard and see what's growing," he says. "And if someone says something won't grow there, then it really probably won't grow there."
Be prepared to face reality, particularly if you have a deep-seated loyalty to specific varieties of apples. "If someone is going to grow apples, they want something they know, like a McIntosh or a Johnny Red, but whatever you choose just make sure it will grow in your region."
THE RIGHT SIZE
Once it's time to buy trees — prices often start between $20 and $25 — consider the size, because bigger often means more work, Watson says. Generally, fruit trees fall into one of three size categories: standard, semi-dwarf, and dwarf.
These sizes are loosely defined, varying between the different tree species, he says. For example, a dwarf apple tree may or may not have the same size characteristics as a dwarf cherry.
At his orchard, Watson relies on dwarf apple trees, which generally grow to between 10 feet and 15 feet in height. The smaller trees, however, often cannot support their own weight and require support stakes, he says. "Also, I always tell people that trees don't like wet feet, so you need well-drained soil," he says.
The difference in time and effort needed to tend dwarf fruit trees compared to the work needed to maintain standard-sized trees, which might grow higher than 40 feet, often make the choice of tree simple, Watson says. Pruning and otherwise tending a single dwarf apple tree might require an hour per year, but simply pruning a standard-sized tree might take far longer.
Also, dwarf trees offer the advantage of quick results. A standard-sized apple tree might need five years to begin producing quality fruit. A dwarf apple can produce fruit in the first year, although the tree likely will benefit from at least two years of growth before fruit production, Watson says.
Watson recommends limiting fruit development early in a tree's life by either picking first-season fruit before it develops or by using one of the common chemical treatments that prevent the fruit from forming.
As the tree grows, prune to manage the amount of sunlight reaching the tree and to maximize the size and density of the fruit, Watson says. There are many strategies, some backed by strong opinions, and tree growers should do the research necessary to select the best method for their specific trees and location.
When developing an orchard strategy, do remember all trees fare better if there is at least one other tree of the same species to allow pollen to move between trees.
"There is no right or wrong, but there are many ways to prune a tree," Watson says.
Particularly with dwarf apples varieties, a homeowner could plant hundreds of trees on a single acre. Or, a homeowner could plant a single tree.
When developing an orchard strategy, do remember all trees fare better if there is at least one other tree of the same species to allow pollen to move between trees.
"Even self-pollinating varieties will do better with cross pollination," he says.
With all of the possible considerations of starting an orchard, Watson says anyone growing fruit trees must also consider the reality of success. One dwarf apple tree can produce three bushels of fruit annually.
"You need to know what you're doing," he says, "or you're going to be calling your neighbors to help pick all the fruit off the ground so you can mow."
Noble Sprayberry is a frequent contributor to Out Here.