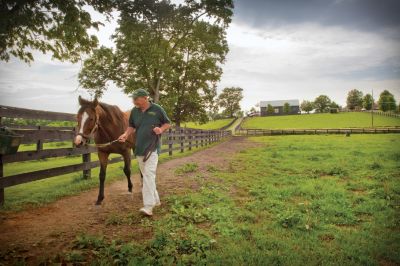 Michael Blowen interacts with Falcon Scott and the other horses by taking leisurely walks—something unheard of in their racing days. "They know we're not going to push and pull them around," he says.
Winner's Circle | Fall 2011 Out Here Magazine
Old Friends rescue offers racehorses the best prize of all—a peaceful retirement
Michael Blowen interacts with Falcon Scott and the other horses by taking liesurely walks—something unheard of in their racing days. "They know we're not going to push and pull them around," he says.
Photography by Mark Mosrie
The broken-down, one-eyed bag of bones that arrived at Old Friends, Inc., racehorse rescue near Lexington, Ky., looked nothing like a racing superstar that once thundered across the finish line.
The dark bay, narrowly rescued from a Kansas slaughter broker, once carried celebrated jockeys, but now he was emaciated and nearly too weak to hold his head up. But his savior, a horse rescuer, realized this horse's rich history when the broker pulled Jockey Club papers from a pocket of his overalls.
She quickly contacted Michael Blowen and his wife, Diane White, founders of Old Friends, to see if they had room for Clever Allemont.
As a young racehorse, Clever Allemont, had competed at Churchill Downs, won his first six races, earned more than $250,000, and was ridden by renowned jockeys Pat Day and Angel Cordero.
Oh, yes, Michael told her, Clever Allemont definitely could come to Old Friends.
But upon Clever's arrival, Michael sadly feared that his deteriorated condition was beyond help. "He was the first horse I ever wanted to put down," Michael recalls. "He had no muscle and he was just skin and bones." He also was blind in one eye and deaf. Plus, in human years, Clever was in his 80s, so recovery was a long shot.
But noted equine veterinarian Dr. Doug Byars sensed a spark in the 27-year-old Thoroughbred stallion and resisted euthanizing Clever. Instead, he and Michael worked to restore Clever's health. Two years and 319 pounds later, Clever's shiny coat, filled-out body, and regal demeanor hint at the magnificent horse he once was.
DREAM COME TRUE
Michael, a horseracing enthusiast and former movie reviewer for the Boston Globe, remembers going to the 1995 Sword Dancer Invitational Handicap in Saratoga Springs, N.Y., to see Awad, a top moneymaker, race Kiri's Clown, son of 1975 Kentucky Derby winner Foolish Pleasure.
"The mythology is that racehorses are retired to their Old Kentucky Home where they live like kings," Michael says. "The truth is, when they're making money, they're treated well; if they're not making money, then, no."
"You couldn't get a seat," he recalls. "I had to stand."
Kiri, now 22, triumphed in that race. Awad would win two years later, setting a course record.
"Now they're both in my yard," Michael says, shaking his head in amazement.
(Sadly, Awad died suddenly not long after Out Here visited Old Friends.)
Michael is affectionate with each horse at Old Friends as he steers his golf cart from paddock to paddock, a bucket of carrots riding on the floorboard as welcome treats. Most come when he calls, anticipating attention and a crunchy treat. If they prefer not to make their way over to the fence, well, that's okay, too.
Old Friends, located at Dream Chase Farm in Georgetown, Ky., just north of Lexington, and named for a series of books by equine photographer Barbara Livingston, is indeed a dream come true for the 68 horses living there, as well as some 40 more at the leased farm next door, and a 40-acre Saratoga satellite farm.
That's because most racehorses don't get such a happy ending.
"The mythology is that racehorses are retired to their Old Kentucky Home where they live like kings," Michael says. "The truth is, when they're making money, they're treated well; if they're not making money, then, no."
When they're no longer winning, racehorses are typically sent to breeding farms in the United States and abroad. For some, once they're past breeding stage and no longer making money, they're dispatched to slaughterhouses.
Such was the inconceivable case of 1986 Kentucky Derby winner Ferdinand who ended up in a Japanese slaughterhouse in 2002 — just three weeks after Old Friends launched.
Ferdinand's shocking death gave Michael and his wife the incentive to contact both U.S. and foreign breeding operations and encourage them to send retired Thoroughbreds to Old Friends to provide them a dignified and well-deserved retirement. Old Friends is also notable because it takes stallions — males that have not been neutered. Stallions tend to be more aggressive, so many rescues won't accept them.
They arrive at Old Friends in varied ways. Some, like Clever, are snatched from certain death; Michael keeps an eye out for possible retirees and purchases them; and caring owners seek out Old Friends for their retiring horse.
"People expect to see broken-down, old horses, but when they come here, they see that they're doing really well," he says. "The key to this whole thing is to make sure that each horse is well taken care of."
Most horses arriving at Old Friends adjust well to their new life, Michael says. "The smart ones adapt right away," he says. "Now, if they're directly from a racetrack or a breeder's shed, it takes a while."
They begin to relax as they become accustomed to a slower pace, he says. "They know we're not going to push and pull them around."
Eternal Orage, who earned nearly $350,000 during his five-year career, waits patiently at feeding time. With his racing days behind him, his diet isn't as strict as it once was.
UP CLOSE AND PERSONAL
Michael took the unusual step of opening up Old Friends to the public, to educate and draw attention to the plight of retired racehorses. At Old Friends, visitors on guided tours can get up close and personal to the horses, feeding them treats, touching, and closely interacting with them. Few, if any, places allow such contact with celebrated racehorses, and visitors frequently come away enamored.
"Each individual horse has great stories," Michael says, "and people come and get attached to one or two horses in a very compelling way."
Gord Chatwin has made two trips to Old Friends from his home in St. Catharines, Ontario, Canada, after learning about the rescue, via the Internet, three years ago.
Chatwin, who worked for 36 years in a steel mill, never owned a horse, but he's always had a love for the animal. So when he happened across the Old Friends website (oldfriendsequine.org) and learned of its mission, he had to see and experience this place for himself.
Each trip, he spent a generous amount of time walking the farm, from paddock to paddock, a bucket of carrots in hand, communing with and photographing individual horses, including his favorites, Sunshine Forever and Clever Allemont.
"What Michael is doing is giving these horses another life," he says.
Denise DeWitt, Chatwin's friend and traveling partner, has adopted his passion for the horses. "Each one has a such a great personality," she says, "and to give each animal a carrot out of your hand is so spectacular."
Michael returns the admiration. Visitors, supporters, donors, and volunteers make the retirement farm a magical, successful effort.
"The other great thing about (Old Friends) is attracting people like this," Michael says, gesturing toward Chatwin and DeWitt. "This is a magnet for really nice people."
THE HORSES
"The vet says every day a horse spends in a stall is one day off of his lifespan," Michael says.
That's why each stallion spends his time in a large paddock — which contains a three-sided shed for protection from bitter wind or scorching sun — grazing, resting, and being catered to and admired.
Meet some of the retirees:
Gulch, whom Michael calls, "probably the best sprinter in the world," was ridden by Angel Cordero when he won the 1988 Breeder's Cup Sprint in 1988, by Pat Day when he placed third in the Belmont Stakes in 1987, and by the legendary Willie Shoemaker in the 1987 Kentucky Derby.
After his racing days were over and he was put to stud, Gulch sired more than 70 stakes winners, including 1995 Kentucky Derby winner Thunder Gulch.
Gulch, who won the 1988 Breeder's Cup Sprint, is "probably the best sprinter in the world," Blowen says. He's also a favorite of Britain's Queen Elizabeth II.
Gulch made a fortune for his owners over the course of his career, Michael says, adding, "He earned his retirement."
Gulch gained the attention of Britain's royalty. "He's Queen Elizabeth II's favorite horse in America," Michael says. Indeed, a horse she bred and raised — Height of Fashion — was bred to Gulch, which produced Nayef, a champion in England and Dubai who earned more than $3.5 million on the track.
"We've had visitors from New Zealand who came to the (United) States just to see him," Michael says. "He's one of our stars, and we have a lot of stars."
When Commentator's record-breaking, five-year racing career ended in 2009, Michael sought him out to retire at Old Friends.
"I wanted this horse here because he could attract a lot of visitors," he says. "He and Funny Cide are considered the best of the New York-bred horses and he is a huge celebrity."
Commentator, who earned more than $2 million, set two track records and held the highest speed figures for distances both under and over a mile. Upon his retirement, he was honored by the city of Saratoga Springs.
"He ran the fastest race of any horse in the U.S.," Michael says. "He's one of the great horses we have here."
Born in England and once owned by Dubai royalty, Creator, now 27, was a superstar in European racing. His racing highlights include a 2½-length victory in The Prix Ganay — the same race his sire won in 1972.
An injury during the U.S. Budweiser International, in which he placed third, ended his racing career, and he went to a breeder's shed in Japan.
He and Sunshine Forever were the first beneficiaries of Michael's aggressive efforts to return racing stallions to the United States from Asian stud duty.
Creator, whose paddock borders Michael and Diane's back yard, is Diane's favorite equine retiree.
"Are you the greatest horse that ever lived here?" Michael asks Sunshine Forever, who was honored as 1988's Eclipse winner for Outstanding Turf Horse. Sunshine, who earned more than $2 million during his racing days, responds by vigorously shaking his head up and down in a "yes" reply.
Michael wanted Sunshine Forever, now 26, at Old Friends because he watched him during his glory days.
"I saw him race and I had tremendous respect for him as an athlete," Michael says.
"He did things on the track that I'd never seen," Michael says. "He got passed on the inside and on the outside and he came up through the middle and won. You never see that. A horse may get passed by one and still win, but they never win when they're passed by two."
Sunshine returned to the United States, along with Creator, after stud duty at the same Japanese farm where Ferdinand once lived.
Bull In The Heather
THE LEGACY OF TAYLOR'S SPECIAL
Michael Blowen credits 1984 Kentucky Derby contender Taylor's Special with the development of Old Friends.
"All this happened," Michael says, glancing around Dream Chase Farm, "because of this horse."
He recalls how he went to Whitaker Bank in Lexington to ask for a loan to buy a 52-acre farm to build and expand Old Friends. He knew it was a long shot.
"I told them, 'I need $1 million and I don't have any money, but I promise you that I will never miss a payment and I promise it will be the best loan you ever made,'" he recalls.
Michael invited bank owner Elmer Whitaker to his rented farm to see the dozen or so horses. "Well, I'm giving the tour and I'm getting nothing from him. Not a word," Michael says, recalling his anxiety.
"Well, we get to Taylor's Special and he said, 'Is that Taylor's Special?' When I said it was, he said, 'That horse cost me millions.'"
That's because Taylor's Special kept defeating Whitaker's racehorse. "I said, 'Think of it this way, Mr. Whitaker: if you lend us the money, you'll finally own yourself a good horse,'" Michael says with a hearty laugh at the memory. "Three weeks later, we had the money and the farm."
This striking grey is a living reminder of his sire, Ferdinand. "He's the greatest son of Ferdinand," Michael says.
Bull, as a 29-1 shot, won the 1993 Florida Derby and also ran in the Kentucky Derby that same year.
After more than $500,000 in race winnings, he retired to stud before completely retiring at Old Friends in 2006.
Popcorn Deelites
If you've seen the inspirational movie Seabiscuit, particularly the scenes where Seabiscuit breaks from the gate, then you've seen Popcorn Deelites, who was cast as one of six horses to play the Depression-era champion.
Popcorn wasn't a superstar on the track, with winnings at nearly $60,000 during his six-year career, but he is a bonafide celebrity at Old Friends.
LIFE OF LEISURE
For Creator, Gulch, and each of these horses, gone are the days of early-morning workouts, strict diets, life spent in a stall, and the demanding routine of a high-performance, money-making athlete.
At Old Friends, there are no expectations, no regimen, no bridles. These retirees' days are spent grazing, lazily rolling around in the sun, and dozing. They do only what they want. Nothing more.
"The key is that they're the boss," Michael says. "We're just the staff."
The best part of Out Here editor Carol Davis' visit to Old Friends was being in the presence of true champions.
After The Race Is Run