Rebuilding A Dream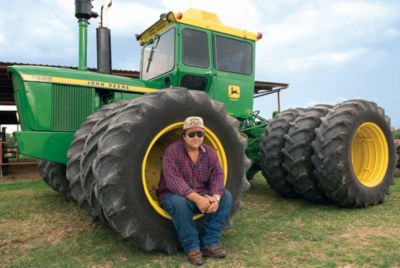 Francis sitting in the front wheel well of his John Deere 7020
By David Frey
Photography by Eddie Seak
Francis Pawelek was 12 years old when he first climbed into the seat of that hulking tractor. With a dozen wheels stacked up on four hubs like records in an old juke box, the John Deere 7020 was a giant: an early four-wheel-drive monster better suited to plowing through the massive Great Plains than the fields of Pawelek's native Texas.
As a kid, he bought the miniature toy version, dreaming of the day he would own the real thing. Now he does, after devoting months to taking apart the old rusty machine, piece by piece, sanding off the rust and grime, repainting that familiar John Deere green, and bringing the boxy behemoth back to life.
It's a work of art, he says.
"This is excellent," Pawelek, 47, of Alice, Texas, says of his restored 7020. "This beats a brand-new, off-the-showroom-floor tractor. This is better than better."
It's not just a work of art, though. It's a workhorse, from a time when tractors were powerful, even if they weren't always pretty.
Pawelek's not afraid to put his labor of love to work. He's had it plowing and hauling out south Texas mesquite.
For collectors, vintage tractors are often for waxing and polishing, and maybe the occasional tractor pull. For Pawelek, his 1972 machine was made for hard work, and that's what he's doing with it. And, of course, he does a little waxing and polishing, too.
But who could blame him? When he bought the tractor last year, it needed a little work. Pawelek picked it up for a steal, from a friend of a friend who happened to have one, and who happened to be standing nearby when he put out the word that he was looking for a 7020, just like the one he had eyed as a kid.
"It was luck," Pawelek says.
But the tractor wasn't looking its best. It was dingy, rusty, and missing a windshield. Most of the extra wheels were gone. It needed a new crankshaft. The front end was missing, thanks to a little accident involving a mud pit and a bulldozer.
"I knew I wasn't going to find another one," he says, "so I took it."
'NO TURNING BACK'
Pawelek and his friends went to work, ripping the John Deere apart, rebuilding the engine, and scouring junkyards for replacement parts. Pawelek sanded down each part and lovingly repainted it. He started, he says, with the wheels.
"Once you get the wheels done, there's no turning back," he says. "There's something about painting the rims. You've got to keep going. It just gets better as you go."
Keep going they did. In four months, Pawelek had the nearly quarter-century-old tractor looking like new. Maybe better than new.
The reclining seat and pounding stereo system beat anything the tractor would have had when it came off the showroom floor. Along the way, he took notes and shot photographs, thinking it might make good fodder for a book.
He might be on to something. For people who grew up on farms, there's often something special about the tractors they knew as children. Old-timers feel a bond with antique tractors, and they've kept the wheels turning, reviving those early machines for tractor shows around the country.
But the bond can also be strong for their children and grandchildren with tractors that aren't quite so vintage. Mid-generation tractors, such as Pawelek's 7020, may lack the history of those early models, but for kids who grew up around the machines and collected the toys, keeping them running is like keeping alive a bit of their childhood.
"It took a lot of work, man, but I love it," he says. "I wouldn't have (any) other tractor. I've bought other ones, but this is my toy."
Others have had their eyes on it, too, Pawelek says, and they've offered him, well, let's just say a lot more than he paid for it. But Pawelek says he can't part with it. If he sold it, he says, he'd just take the money and turn around and buy more just like it and fix them up, too.
For Pawelek, there's something about finally owning that tractor that he wanted since he was a kid. All that elbow grease it took to bring it back into shape only adds to the value.
"It kind of grew on me," he says. "It's like family now."
It's not the only tractor in the family. Not by a long shot. But it's the only one he's wanted since, as a 12-year-old boy from rural Texas, he hopped up in the seat of that monster John Deere 7020 and dreamed of firing up the engine and seeing what it could do.
Sometimes, making a dream come true means tearing it apart first, building it again from scratch, and adding a nice new coat of paint.
David Frey writes in Carbondale, CO.