Farmers Markets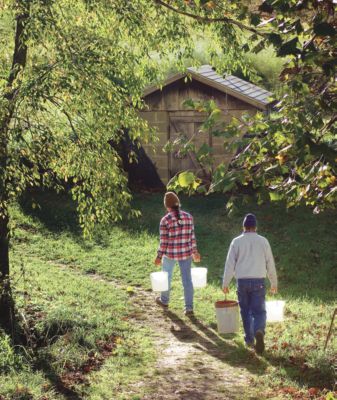 Liz and Jeff Padgett walking along a dirt path on their farm carrying empty buckets" alt="Liz and Jeff Padgett walking along a dirt path on their farm carrying empty buckets
Jeff and Liz Padgett work the soil to offer their customers fresh-picked garden produce
By Carol Davis
Photography by Greg Latza
Each Friday, from early spring to late summer, finds Jeff and Liz Padgett working a little faster and more purposeful on their southern Indiana farm.
As they prepare for the Saturday morning farmers' market in Bloomington, there's produce to be selected, picked, washed, cooled, and packaged. Seedlings to be boxed. Flowers to be cut, cooled, and tied into bouquets. Tables and chairs to be rounded up. And a truck to be loaded.
"It's a full day of getting the plants boxed up and ready to go," Jeff says.
They rise long before the sun each Saturday, at 4:30 a.m., and drive about 25 miles into downtown Bloomington to Showers Common, the market's permanent home. They drive to their longtime space — Row B, Space 15 — unload and set up their produce, and prepare for customers who like to shop as soon as the market opens at 8 a.m.
The Padgetts like their B Row location because awnings provide needed shade on warm summer days. "This row has the tables shaded in the morning, which is nice when we're selling a lettuce mix," Liz says.
Jeff and Liz have been making this trip for 11 years now, selling what they grow. They make their living off the land, and they wouldn't have it any other way.
GROWING LIKE WEEDS
The Bloomington Farmers' Market, which calls itself Indiana's largest, is one of about 4,400 such markets across the United States that have popped up over the last dozen years.
Indeed, the number of farmers' markets has grown by 250 percent since 1994, when the U.S. Department of Agriculture (USDA) began publishing a farmers' market directory. In 1994, 1,755 markets were listed; in 2006, the directory listed 4,385.
Growing consumer interest in buying farm-fresh products, and knowing where that produce comes from, is the reason for such rapid growth, the USDA says.
Bloomington, however, has been way ahead of the curve for decades, beginning in summer 1975 with 23 vendors in a city park. Four moves and 24 years later, it settled into its permanent home at Showers Common, a site next to City Hall designed specifically for the farmers' market.
Customers can shop among about 90 vendors, offering such diverse goods as maple syrup, berries, wild mushrooms, fruit, meat and dairy products, plants, honey, floral arrangements, breads, pastries, heirloom vegetables, and lots of garden harvest, says Marcia Veldman, market coordinator.
Quality and variety attract large crowds, Veldman says. More than 100,000 visitors shop the market each season, which runs from April through November.
Besides the Saturday market, Bloomington provides a mid-week market, on Tuesday, from June through September.
"Things like okra need to be picked more than once a week, so the extra market is good for that," Jeff says.
Different customers also shop the mid-week market, and the Padgetts tailor their merchandise suitably. "We have an older crowd then, and they want the traditional vegetables like corn, potatoes, tomatoes, and okra," Jeff says.
Jeff and Liz see familiar faces with each market. "People are really loyal to their vendors," he says. "We've had some of our customers since 1999."
TO MARKET, TO MARKET
They're seasoned pros now, but the Padgetts had much to learn in their early attempts at growing vegetables to sell. Though Liz grew up on a dairy farm and Jeff always wanted to live in the country, neither ever figured on making a living from the land.
That changed in 1981 when they bought their first 7½ acres to raise their young family out in the country. "We didn't realize we wanted to be farmers until we moved out here," he says.
Liz took master gardening classes and used that knowledge to tend gardens for clients in town and to start their own gardens. Jeff's day job was at a medical device manufacturer, but evenings and weekends found him outside, plowing and planting and keeping their gardens healthy and producing.
In 1996, they began taking their harvest to market.
"When we first started, we didn't know what to grow," Liz says. They chose popular produce, such as tomatoes, cucumbers, and peppers. "We sold tomatoes more than anything," she recalls.
Liz recalls how they had planted lettuce for the first time and, shortly before they were going to pick and leave for market, rain fell, splashing mud all over the lettuce.
"We didn't even start to know about washing it," she says, with a laugh. "It had dirt all over it and it was all wilted. I decided we would never grow lettuce again."
But they persevered, continued to learn — "we're still learning," Jeff notes — and developed steady customers who prefer their organic produce.
Best sellers these days are thin, young green beans, lettuce mixes — yes, they continued to grow lettuce after that early setback — basil, sugar snap peas, potatoes, and onions.
"We do a little bit of a lot," Jeff says. "Mainly, we grow what we like ourselves. It's hard to sell something you don't care for because it's hard to tell if it's good."
Over the years, Jeff left his town job to work his farm full time, they added another 7½ acres to their farm, and they've become quite self-sufficient, by raising their own meat, eggs, and, of course, fruits and vegetables.
A regular workday at the Padgetts' farm finds the couple tending to seedlings in their greenhouses, pulling weeds in one of their multiple vegetable gardens, or patrolling for insect pests. Until Friday rolls around.
It's a life Jeff and Liz Padgett never dreamed they'd have, but now, they can't imagine it any other way.
"There is a lot of desire among people to be grounded," Jeff says. "It's human nature to want contact with the soil."
Though she's a master gardener, Out Here editor Carol Davis realized, after spending time with the Padgetts, how little she really knows.