Extreme Makeover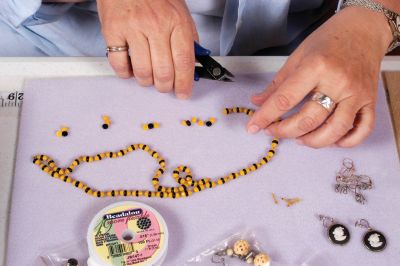 Begin by removing the beads from the old setting. This may entail a single cut, or several, if the stringing cord is knotted between sets of beads.
The first time Juliana Bendt looked into her grandmother's shoebox of jewelry, she said, "Eewwhh," and closed the lid. Several years later, she took another look.
"The beads were beautiful, just the styling was ugly," she says. So she had a local jeweler convert some of the necklaces and earrings into more contemporary pieces.
That jeweler told Bendt she could learn to rework her own jewelry. Now, more than a decade later, she shares her knowledge with others wanting to give their own treasures a fresh look.
"One of the first things I would do is sort it into beads you like and beads you don't like," Bendt says. "Put the beads you don't like away again and with the beads you do like, decide whether you prefer long necklaces or short, straight-strung or a little bit of chain in between — that kind of thing."
Here are her tips to remake an old beaded necklace in the simplest "straight-strung" style:
Gather key materials — Scotch tape, stringing material (gold wire, leather, elastic, threat, etc), good clippers, tape measure, crimp beads, and crimping tool — and find a place to work. A table in a room where you can leave out your materials would be best, Bendt says.
Bead boards that can be purchased at a bead store are good for laying out supplies, or you can place them on scraps of material such as velvet or terrycloth so they don't roll around. Although daylight is best for the intricate work, a task lamp helps at night. Many bead stores have areas set aside for customers to work and are happy to help with a project.
Measure the old necklace and determine how long the new one should be. Bendt likes to shorten longer pieces to leave enough beads to make a matching bracelet. For example, she shortened her granny's 24-inch "yellow jacket" necklace of black and yellow glass beads to about 18 inches.
Remove the beads. In most cases, you can simply cut the cord once with clippers and shake the beads onto your workspace. In some instances, as with the "yellow jacket" necklace, the cord is knotted between sets of beads, so each grouping must be cut. Pearls often are strung similarly, Bendt says.
Choose a stringing material. For most projects, Bendt recommends Beadalon, made from several strands of stainless steel coated with plastic and available in various weights. Choose the weight based on the size of the beads and their holes. Bendt chose a middleweight of 0.015 because the beads were mid-sized, with generous holes. Beads also can be strung on gold wire, leather, silk, elastic, thread, and the like. For an 18-inch necklace, she cut 22 inches of Beadalon.
Wrap a piece of Scotch tape around the wire, about 2 inches from the end. This acts as a brake to keep the beads from sliding off.
Decide upon a pattern for the necklace. Bendt kept the original pattern of three beads but separated each grouping with sterling silver spacers rather than the knots on the original necklace. Spacers, which keep the necklace from becoming too stiff, come in many styles. Perhaps the most popular are tiny seed beads, which are inexpensive and come in a variety of colors.
String the necklace based upon your chosen pattern, leaving at least 2 inches of wire unstrung on either side for the clasp.
When all the beads are on, place one or two crimp beads on the wire. They look like silver seed beads but are crushable, to keep the beads from coming off the wire.
Place the wire through one end of the clasp, loop it back through the crimp bead and through the first couple of regular beads. Keep the loop big enough for the clasp to move around. Clasps come in many designs, ranging in price from around $3 to about $10 for the one made from a vintage black button that Bendt chose. "The world of clasps is huge," she says. "You can have a lot of fun with them."
Clamp the crimping tool around the crimp bead, using the indention closest to the handle, to create a dimple. Then use the outer indention to fold the crimp bead like a sandwich. Crimping tools cost around $12-$14. Many crafters don't like the look of the crushed crimp bead and place a crescent-shaped crimp bead cover over it, then pinch it closed.
Clip off most of the excess wire and tuck what's left into the beads.
Remove the Scotch tape from the other end and repeat the process to secure the clasp.
Try on your new necklace.
"It's really fun and satisfying for someone to see you wearing something, compliment you," Bendt says, "and then (you) tell them that you did it."
Karin Miller writes in Franklin, TN.