Step Into Creativity | Spring 2004 Out Here Magazine
Make your own stepping-stones to add color, individuality to your yard or garden
By Vicki Brown
Photography by Donnie Beauchamp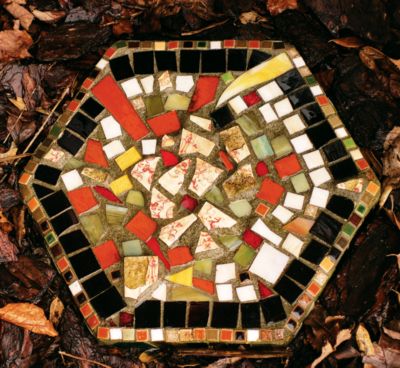 Mix pottery with china and glass to get more texture and color choices.
Sarah Kilgore preserved her mother's chipped Desert Rose china in one stepping-stone and slate rocks her son picked up on a hike in another.
"He came home with these rocks he had picked up. It turned out really nice," she says of the stepping-stone she made for Cole, then 9.
Kilgore, a Franklin, Tenn., artist who also teaches mosaic art in Tennessee and North Carolina, favors colored glass to make the stones-more color choices and a consistent thickness make it easier to ensure nothing sticks up. When using pottery or china, she mixes glass in the design for more color.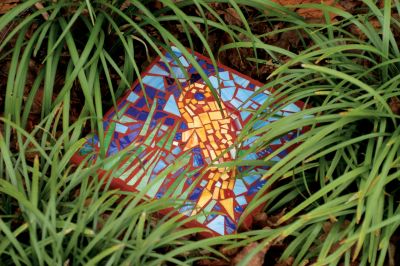 Such stones really personalize a garden, Kilgore says.
"I had one couple who took my class together several times and made stones for a path to a stream. He was an engineer and his designs were all very geometric, while hers were butterflies and flowers. To me, they were such a statement of who they were," she adds. Even people who think they aren't creative can make wonderful stones, she says.
Karen Kreager, who took one of Kilgore's classes, agrees.
"I don't think of myself as an artist and my stone was very random, just pieces put together on the stone, but I loved it,'' says Kreager, of Franklin.
Supplies and tools cost $40 to $45, Kilgore notes as she demonstrates how to make one:

PLACE A CONCRETE STEPPING-STONE ON PAPER AND DRAW ITS OUTLINE
This will serve as your pattern. Move the stone and draw a simple design on the paper.
"You have to keep it simple. Draw a real rough design, not a lot of detail," Kilgore says, demonstrating with a simple outline of a koi fish-just a couple of lines and circle for the eye.
PICK OUT THE GLASS AND CUT IT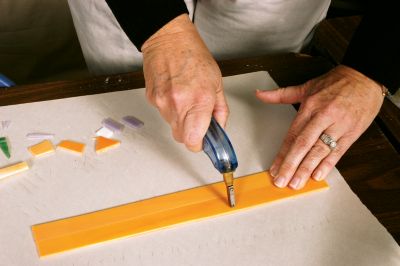 If pottery or china is used, she recommends a design based on the color and pattern of the piece being preserved. Some people hammer the glass pieces, but Kilgore cuts to make sure she has enough different sizes. She advises wearing safety goggles and gloves.
She scores, or cuts, the glass (about $6 to $9 a sheet at a stained glass or hobby store) on the smooth side with a glass cutter, then uses a tool called a runner (similar to a set of pliers with a curved surface that grips and squeezes the scored glass) to break it.
"You want a lot of different sizes and colors,'' she says.
Fill in the design on the paper with the glass pieces to ensure enough glass is cut.
"That's because once you put the glue on the stone, you have about 30 minutes before it dries, so you don't want to have to stop and cut glass,'' she says.
SPREAD THE GLUE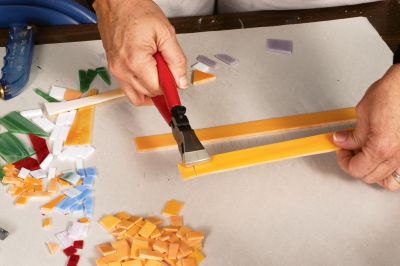 Spread the ceramic tile mastic (the same glue you would use to lay ceramic tile) over the stone with a toothed trowel. "This is icing the cake,'' Kilgore says with a laugh. "You spread it thinly, so you can see the stone through the grooves."
TRANSFER THE DESIGN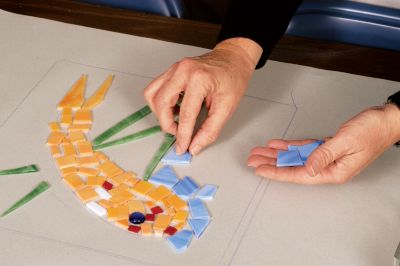 Now, transfer the pieces to the stone. "Don't let the glass come over the edge, or it might pop off," she says. Add glass to any remaining large gaps.
The project should dry for 24 hours. "Try to move a piece of glass. If you can't, it's ready,'' Kilgore says.
GROUT
Make sure no pieces stick up or out, then mix grout according to instructions. She prefers concrete grout (vinyl concrete patcher or Quikrete) for outdoor use, staining it with cement color.
COVER THE STONE WITH THE COLORED GROUT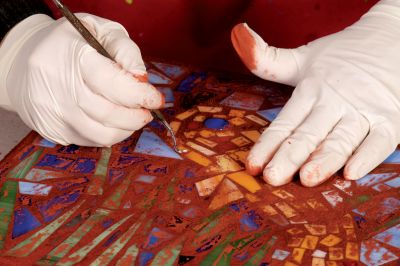 "At this stage most people … think the piece is ruined. You spread it on and work it into all the cracks, really making sure it is filled in along the edge," Kilgore says. "You don't want anyone to ever cut their hand on a piece of glass.''
Let set for 10 to 15 minutes, or dry with a blow dryer.
You should be able to faintly see the design through the grout.
CLEAN THE STONE
Using a screwdriver, pottery tools, or any other sharp object, followed by an old toothbrush and cloth or paper towel, clean the grout away from the mosaic. Use a firm hand, but don't dig, or the grout between pieces will come out. The grout won't stick to glass or glazed pottery.
"This is the tedious part,'' Kilgore says.
SEAL IT
The final step is to thinly brush on tile and grout sealer. This doesn't have to be done with concrete grout unless you have used color, which will rub off if it is not sealed.
The result? A beautifully, personalized stepping-stone. "I've never had a piece turn out badly,'' Kilgore says.
SUPPLY LIST
Concrete stone or other surface to decorate.
Stained glass and/or glazed pottery.
Glass cutter to score glass.
Glass runner (tool with curved surface for breaking the glass).
Ceramic tile mastic (glue).
Trowel with small teeth. Grout (vinyl concrete patcher or Quikrete).
Vicki Brown is a freelance writer in Nashville, Tenn.