Sandblasting Made Easy | Spring 2004 Out Here Magazine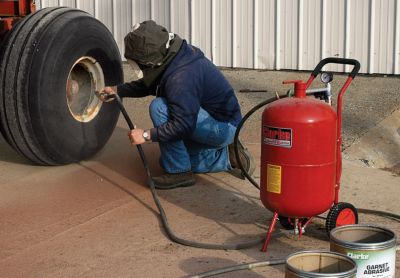 Sandblasters now use safer abrasives instead of hazardous silica sand.
By Noble Sprayberry
Photography by Donnie Beauchamp
Rusty metal and peeling paint don't stand a chance against sandblasting when it's done with skill.
The possibilities range from small jobs, such as cleaning up weathered patio furniture, to large projects, such as restoring vehicles, says Steve Olson, an instructor at South Hamilton High School in Jewell, Iowa.
Olson and his students specialize in tractor restoration but the skills he teaches hold up for many applications. "The most common use is stripping off old paint and getting rid of rust on metal materials," Olson says.
The term "sandblasting" may be more common, but the preferred — and more accurate-word is "abrasive blasting," says Brian Juchartz, marketing manager for Clarke Power Products, a leading manufacturer of abrasive blasting accessories and power tools.
Sand commonly may have been used 20 years ago, but safer blasting agents — aluminum oxide, garnet, glass beads — largely have replaced silica sand. That's because the dust that silica-based abrasives create can cause serious lung damage and other health problems.

Compressed air, often under as much as 100 pounds of pressure, allows an abrasive to scour a surface.
Properly used on steel or cast metals, the technique will leave a surface ready to paint, Olson says. "It allows you to start with a base clear of impurities," he says.
A quality blasting rig costs about $250, with one suitable for smaller applications available for as little as $25, Olson says. The air compressor required to run the gear is an added expense.
Many carpenters use small compressors with 20-gallon air tanks to power tools such as nail guns. "With that, you could sandblast for five minutes and then have to wait 10 minutes for the tank to refill," Olson says.
For continuous blasting on big projects, Olson uses a 250-gallon compressed air tank.
Safety equipment also is essential. Olson recommends a canvas hood that covers the head and shoulders and allows sight through a clear shield.
He suggests other items to protect the skin from abrasives ricocheting off metal: a long-sleeved shirt, leather gloves, long pants, and shoes.
Duct tape also can protect areas of an object that you don't want to blast. When he restores a tractor, Olson uses duct tape to cover items such as emblems or gauges. Masking tape isn't sufficiently sturdy, he notes.
With the right equipment and proper workspace, the rest is relatively easy, Olson says.
"It becomes self-evident what you've gone over because you'll see bright shiny metal," he says. "After blasting, just make sure the piece stays dry because it will rust. Bare metal has no protection."
Noble Sprayberry is a freelance journalist based in Dallas.