Restoring History | Spring 2004 Out Here Magazine
By David Frey
Photography by Bill Alkofer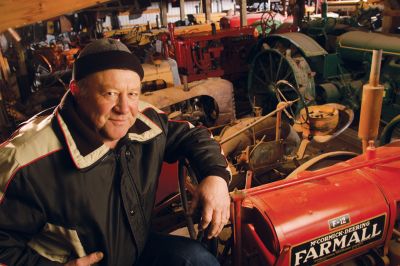 Most tractor collectors, such as Bob Spencer, start for similar reasons: fond memories from a rural childhood, and a desire to preserve history.
On Bob Spencer's farm in Otsego, Minn., a century of America's rural past unfolds amid the aging, coughing machines that once did the work of the nation's farmers, and that Spencer has nursed back to life.
A 1920 Minneapolis. A 1938 Graham Bradley. International Harvesters and John Deeres and Allis Chalmers. Ninety years' worth of tractors that plowed cornfields in Iowa or cut hay in Montana sit on Spencer's 11-acre property. They're lovingly restored to health, still running, and in some cases, still working.
Over the past 30 years, Spencer, 60, has collected the sort of tractors he used to see as a boy growing up amongst rural Minnesota's dairy fields. Today, his collection stands at about 100, from a 1917 Cleveland Crawler to a 1969 Minneapolis-Moline. Some go to work on his property.
Some get shown off at thresherman's shows.
"What bothers me is seeing them cut up for scrap," Spencer says. Instead, tractors that could end up rusting dinosaurs from a bygone age see new life under his care.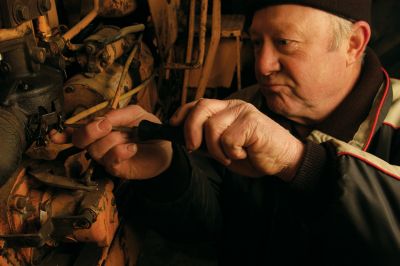 Spencer spends part of each day in his barn, repairing and restoring the machinery.
Spencer works nearly every day healing tired engines and repairing rusty cylinders, ordering spare parts when he can, making them himself when he can't.
"People like to see something that was of the era when they were growing up," Spencer says. "That's why tractors in like the '50s and '60s now are getting so popular. To me, they ought to still be working tractors."
Spencer's hobby started out of necessity when he needed a tractor to work around his property. He couldn't afford a new one, so he picked up a 1937 Farmall F12. It was hardly new, but the price was right, and, Spencer says, "it did the job I needed."
Over the years, the need for a work tractor transformed into a love of old tractors and bringing slumbering machines back to life. "You like to save every one you can, you know?" he says.
He's not alone. Charles Greer, president of the American Thresherman Association, in Pinckneyville, Ill., puts the number of antique tractor collectors in the thousands. Most start for similar reasons: fond memories of riding tractors on family farms back in the old days, and a desire to preserve a bit of history.
For enthusiasts, the old machines have a pull that can't be explained in terms of horsepower.
"I've got about 18 of them right now," says Greer, 59. "I got a hold of my grandpa's tractor, one I started farming with myself when I was 7 years old. I've got it restored mechanically, but that's one I never painted, because I wanted to keep it like I knew it when I was 7 years old."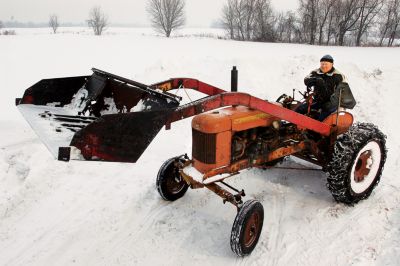 Spencer's tractors not only run, they are put to work on his 11-acre Minnesota farm.
Each year, thousands of thresherman's shows attract millions of visitors to see old tractors and steam engines in use. "Everything's done the way it was back in the 1920s," Greer says.
The shows bring in young and old, kids off the farm, and curious city dwellers.
"I don't think it will ever die," he says. "We've got young kids that are 11, 12 years old that are interested in tractors just as much as the 70-, 80-year-old people that are there."
Spencer's wife Mae, 60, says she enjoys her husband's tractor obsession, too. She helps out in the shop, drives the tractors in parades, and when the tractors are occasionally on display in their yard, fields questions from long lines of passersby. "He's preserving history," she says.
Indeed, Spencer's hobby has kept more than a few old farm machines from the scrap heap, but it's also helped keep running the engines of America's rural past.
David Frey writes from Carbondale, CO.