Preserving a Tree — And a Family's Memories | Spring 2004 Out Here Magazine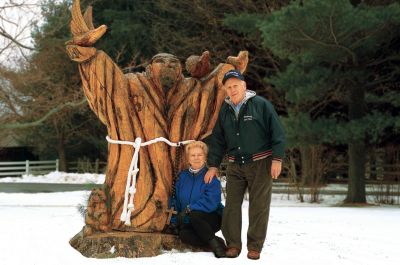 Julie and Bill Zink found a creative way to preserve their much-loved 200-year-old maple tree when it began to die.
By Amy Green
Photography by Larry Davis
In more than 200 years, the canopy of branches atop the huge maple tree in Julie Zink's front yard sheltered birds, shaded a wedding reception and countless picnics, and beckoned children to climb.
So when the tree began to die in 1998 from old age, Julie and her husband, Bill, of Dayton, Ohio, weren't ready to let go. Julie, after all, had spent 60 of her 73 years with the magnificent maple, and the couple's five daughters grew up swinging from its branches.
Julie's family moved to the 100-acre farm on the outskirts of town when she was 10, and she returned after her 1954 marriage to Bill, now 79. He worked as a dentist while she taught and raised their children. The couple also sharecropped, raising hay, corn, soybeans, and sheep.
The tree's limbs reached 90 feet when it was healthy. Julie was most fond of the tree during autumn.
"If you would come in the fall and drive in our lane, you would have seen this enormous ball of gold leaves," she says. "You would see our lawn covered with gold."
Keith Maxwell, a chainsaw artist, spent two days carving the saint, who is dressed in a monk's habit with his arms reaching upward. A lamb and raccoon are curled up at his feet, and birds perch on his hand and shoulder.
So when the much-loved maple began to die, the Zinks tried to bring it back with fertilizers, yet soon realized the inevitability of the tree's end. They chose to preserve it in another way when friend Marvin Paule suggested reshaping the trunk as St. Francis of Assisi, patron saint of animals and the environment.
"It's such a precious family memento," Julie says. "We love the outdoors, and it was just an awesome part of our family."
"When I was 10 it was a part of my life," she says. "You just don't erase something that was part of you and part of your family.'"
Amy Green is a freelance journalist based in Nashville, Tenn.